Tales From the Front Lines: A Nod to the Past & Creating Your Future
Tales from the Frontlines: A Nod to the Past, and Creating Your Best Future!
About this event
Please join us Tuesday, November 16th / 6:00pm - 9:00pm ET at the stunning Etc. Venues at 360 Madison Ave. (entrance on 45th) for an important conversation about the Live Events Industry!
Topics include:
The future of Events, IRL, Hybrid, and Virtual
New Revenue Streams and Opportunities
Role of Diversity Equity and Inclusion
Creating Authentic Connections / Power of Partnerships
…. And more!
Tickets include an open bar and light bites! Attire is business casual. Please see below for COVID protocols.
ILEA Members: $25 / Non-Members: $45
About Our Strategic Partner!
Etc.Venues offers 45,000 sq. ft. across two inter-connected floors, with 10 rooms that provide the perfect setting to meet, think, and collaborate for both hybrid and in-person meetings, events, and conferences. 360 Madison Avenue is easy to get to, but hard to forget.

About the Speakers
David Adler, Founder and Chairman of BizBash (bizbash.com) is a veteran media, marketing, and event industry entrepreneur. He founded BizBash in 2000, overseeing its growth as the largest B2B media company for the event industry with over 2.5 million user sessions annually.
Previously, Adler served as vice president of corporate communications for media companies Macmillan, Inc., and Primedia. He was founder and C.E.O. of the society magazine Washington Dossier and vice president of media relations and cause marketing for the public relations firm Cone Communications.
Adler has held numerous leadership roles including with the U.S. State Department as a consultant where he leads initiatives with the chief of protocol including the Patrons of Diplomacy, the first Global Chiefs of Protocol Conference, and the Diplomatic Culinary Partnerships' American Chef Corp. After the 9/11 tragedy, he became the co-chair of CEME, (Convention, Exhibition, Meeting, and Events Initiative), created to help rebuild the event industry in New York.
At Cone Communications he was involved in programs such as the initial Avon Breast Cancer Initiative, the Reebok Human Rights Awards, the Polaroid Missing Children Program, and the John F. Kennedy Library Profile in Courage Award.
Adler resides in Washington, D.C., and is active in several nonprofit and professional organizations including SISO (Society of Independent Show Organizers), the Fine Arts Committee of the State Department of the United States, the Hudson Square Business Improvement District, and the Open Future Institute.
David Landgraf, Chief Experience Officer, Make It Happen Management | Follow us on Social Media: @MakeItHappenMgmt | Make It Happen Mgmt by David Landgraf has been named to The BizBash Top 500 List for Best in Event Management & Consulting
A funny thing happened on David Landgraf's way to becoming a renowned events producer.
Landgraf's career kicked off at the National Security Agency as a computer systems analyst and operator where he was granted top-secret government clearances. A role that prepared him for his true calling as an events maestro. After all, both endeavors require many of the same skills, including a keen eye for details, strategy, innovation, and creativity.
Before founding Make It Happen Management in 2018, Landgraf planned and managed worldwide events for Blackstone, Government of Singapore, Barclays Capital, Goldman Sachs, and Arthur Andersen, where he applied his unparalleled expertise, access, and ability to engage people to brands, within each high-profile project. For example, a veteran hiring initiative summit and press conference with First Lady, Michelle Obama, to an event with tennis champion, Novak Djokovic. Landgraf's reputation for making every event exciting, educational, entertaining, and empowering for both clients and guests inspired his company's moniker.
Time and time again, those looking to create something above and beyond would say, "Call David Landgraf, he can make it happen."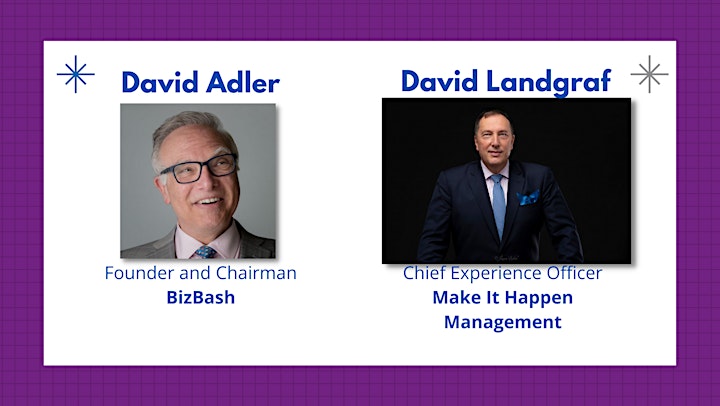 Important COVID Protocols
As per the latest NYC mandate, as of August 17th, 2021 etc. venues is required to ensure proof that all attendees to events are vaccinated with at least one dose of FDA or WHO-approved Vaccines, in advance of attending events.
Proof of vaccination can be with any one of the following:
A CDC COVID-19 Vaccination Record Card;
An official immunization record from the jurisdiction, state, or country where the vaccine was administered; or
A digital or physical photo of such card or record, reflecting the person's name, vaccine brand, and date administered (or picture thereof); or
The New York City COVID Safe Pass app; or
The New York State Excelsior Pass app.
By attending this in-person event, you attest that you answer "No" to the following questions:
- In the past 14 days have you been diagnosed with COVID-19 or been asked to quarantine?
- In the past 10 days have you had new or worsening symptoms such as a fever, shortness of breath, persistent cough, sinus congestion or runny nose (not attributed to allergies), loss of taste/smell, headache, sore throat, severe muscle aches, fatigue, or nausea/ vomiting/diarrhea?
- In the past 14 days, have you had close contact or high-risk exposure to someone with an active or suspected case of COVID-19? This includes being less than 6' away for more than 15 minutes in a 24 hour period or direct contact with mucus or saliva.
- In the past 10 days have you been asked to get a COVID-19 test due to symptoms or risk of exposure and are still waiting for the results or received an inconclusive result?
- If you had a severe case of COVID-19, are you within 20 days of your last symptom? 
By attending this event, you certify, represent, and warrant as follows:
- I have received a COVID-19 Vaccine in the last 12 months (at least one shot).
There are some very limited exceptions to the above vaccine mandate on the grounds of underlying health issues, strict religious beliefs, or if any of the attendees are 12 years and younger. In these instances, masks must be worn at all times by those individuals and they must maintain social distancing guidelines.
FAQs
How can I contact the organizer with questions? Please email us at lauren@madebynectr.com or landgraf@makeithappenmgmt.com.
Do I have to bring my printed ticket to the event? It is highly recommended in order to expedite the check-in process.
I have dietary restrictions. How can I let someone know? You can let us know when you are at ticket checkout.
Can I watch this event online? This is only available in person at this time.
Will this event be recorded for viewing later? No, it will not.
How can I update my registration information? You can do that through your confirmation email or email us at lauren@madebynectr.com or landgraf@makeithappenmgmt.com.
What's the refund policy? We can issue refunds until 7 days before the event.
Strategic Partnership Opportunities
Share your strategy and current plans with us and we can work with your organization to develop custom programs aligned to your individual needs. Any budget is welcome! There's something for your company, and every partnership can be tailored to your specific organizational development needs!
Current opportunities include but are not limited to branding in emails, webinar lower thirds, and online meeting waiting rooms; tagging, hashtags, and mentions in social media; signage and activations onsite; and so much more!
If interested please contact Jeff Wibben at 631-681-1330 for more information!
About the ILEA NY Metro Chapter
The NY metropolitan area is host to the most events, the most high-profile events, and the most event industry professionals of any city in the world. Our ILEA Metro chapter, founded in 1988, has supported the local members, and the industry at large, through cutting-edge educational programs, dynamic networking events, partnerships with tangential associations, and a peer-to-peer support system that helps our members grow their businesses and their careers.
ILEA NY Metro is a 501(c)6 nonprofit organization, tax ID number 13-3520192. Contributions to the organization are not deductible for federal income tax purposes as charitable contributions. However, you may be able to deduct the donation from your taxes as an expense of doing business. Donations to a 501(c)(6) organization are not required to be disclosed. Please consult a tax professional for advice.
Organizer of Tales From the Front Lines: A Nod to the Past & Creating Your Future
The NY metropolitan area is host to the most events, the most high-profile events, and the most event industry professionals of any city in the world. Our Year-end Big Apple Celebration acknowledges the outstanding volunteer work of the Committees and Chapter Members. The Hall of Legends honors the most senior level event professional who has made a significant contribution to the industry. We invite you to join us as our chapter expands in new areas, in lock-step with the expansion of the NY metro area's outstanding and diverse events.