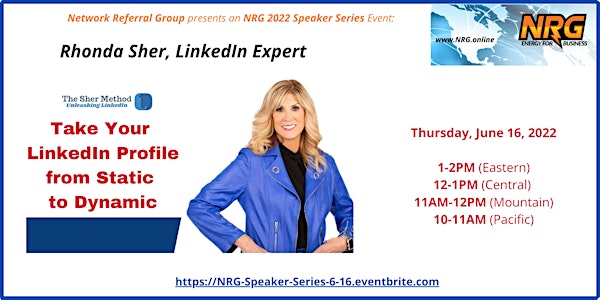 Take Your LinkedIn Profile from Static to Dynamic
Having a LinkedIn profile is not enough if no one sees it, if it's unclear, or incomplete! Learn how to fix it with Rhonda Sher!
About this event
Take Your LinkedIn Profile from Static to Dynamic!
Proven Strategies to Get Found and Get Business on LinkedIn
from Rhonda Sher, NRG Member and Creator of The Sher Method
Having a LinkedIn profile is not enough if no one sees it, if it's unclear, or incomplete!
Rhonda Sher, LinkedIn Expert, is going to tell us what's missing from our profiles and how to turn LinkedIn into a lead-generating machine! In this session, you will learn:
What you must have on your LinkedIn profile to create credibility
What you can add to your profile to get found in searches
How to stay top of mind with prospects and referral partners
What to include in your "about section" to create rapport
How to stay out of the "LinkedIn Witness Protection Program" so your profile will be found
Thursday, June 16, 2022, 1-2 pm EDT / 12-1 pm CDT / 11 am -12 pm MDT / 10-11 am PDT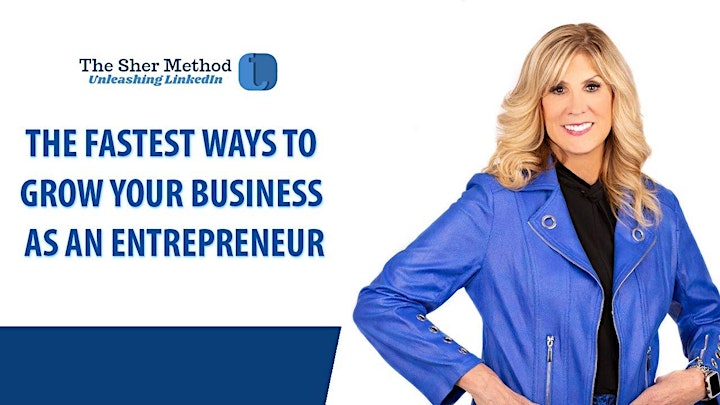 Who is Rhonda Sher?
Rhonda Sher is an International Keynote Speaker, LinkedIn Strategist, Business Networking Expert, and author of 4 books and multiple action guides. Her passion is sharing the power of LinkedIn and networking – online and offline with business owners, entrepreneurs, service providers, speakers, coaches, realtors, mortgage lenders, and insurance agents.
Rhonda is known for her creative branding and strategic approach to generating leads on LinkedIn. For the past 20 years, she has helped people from all over the world to upgrade, optimize and implement a consistent pipeline of appointments by using LinkedIn. Her proven strategies separate her clients from their competition. Her unique methods and her Done-for-You LinkedIn profiles have produced more leads and increased income and visibility for thousands of clients. Rhonda's ability to step into the shoes of her client's prospects has made her indispensable to anyone looking to enhance their visibility, credibility, and profitability using LinkedIn.
Let Rhonda Sher show you or your organiation how she can help take any LinkedIn profile from Who? to Wow! Find her at http://www.rhondasher.com on LinkedIn at https://www.linkedin.com/in/rhondalsher/ and on YouTube at https://www.youtube.com/channel/UCSMU-vYBFYiC77W4_yHyjEw.

NRG Speaker Series
This workshop is part of the ongoing Speaker Series hosted by Network Referral Group. NRG is the premier networking organization that brings selling professionals and business owners together to help them expand their businesses locally, nationally, and internationally through warm referrals.
NRG started in Washington D.C., Virginia, Maryland, and Pennsylvania, and has expanded into 30 states across the U.S. and 2 other countries, so far, with over 50 weekly meetings. Our differentiator is the PINball System, a warm referral generating process. We offer business training and expertise and other events to our members as well.
To find out if NRG is right for you, check out one of our 50+ weekly meetings and our other events! http://www.NRG.online