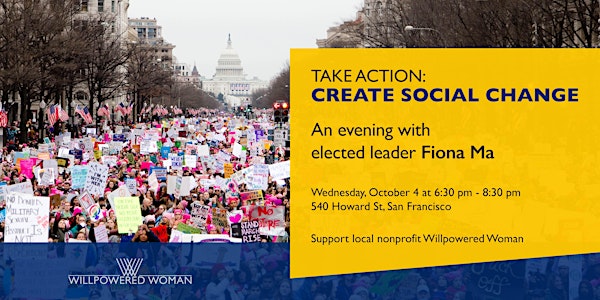 Take Action: Create Social Change
When and where
Location
Eco-Systm 540 Howard Street 3rd Floor San Francisco, CA 94105
Description
Are you committed to making positive social change in your community, and looking for ways to expand your impact? Maybe you're still looking for a place to start. Welcome elected leader Fiona Ma as she answers your questions and discusses her path from a first-generation American to elected leader of over 10 million Californians. Local activist Crystal Wheeler will share her journey of being incarcerated from a self-defense case to getting her freedom back.
Fiona Ma is an influential political leader, and a consistent defender of women's and girl's rights. Over the course of her career, she has secured over $17 million to support survivors of domestic violence and has authored many pieces of legislation to advocate for these survivors. She served as the Chair of the Assembly Select Committee on Domestic Violence, and represented District 2 on the California Board of Equalization. Come and learn from her experience and network with a community of local activists.
Crystal Wheeler was choked and beaten, tormented and isolated by a violent husband who forced her to quit her job as a training law enforcement officer. One night she fatally fought back, which lead to her serving 22 years in prison. Pro-bono lawyers advocated for her release as a battered woman defending her life. She is now the Executive Director of Every 9 Seconds, a non profit organization for abused women, founded by her former cellmate and fellow survivor, Brenda Clubine.
All ticket sales will go directly to Willpowered Woman, a nonprofit focused on empowering women. We offer classes and one-on-one advocacy for women affected by intimate partner abuse and have educated hundreds of students at high schools and universities to prevent intimate partner abuse through creating awareness and promoting ways for them to stay self-empowered.
Feel free to contact us with questions or to let us know how we can best accommodate you at eli@willpoweredwoman.org

Can't make the event? Any donations are hugely appreciate and Google is matching all donations: https://handup.org/campaigns/impact