What better way to celebrate the ULTIMATE 2's DAY than with a TACO TUESDAY BIRTHDAY BASH?
About this event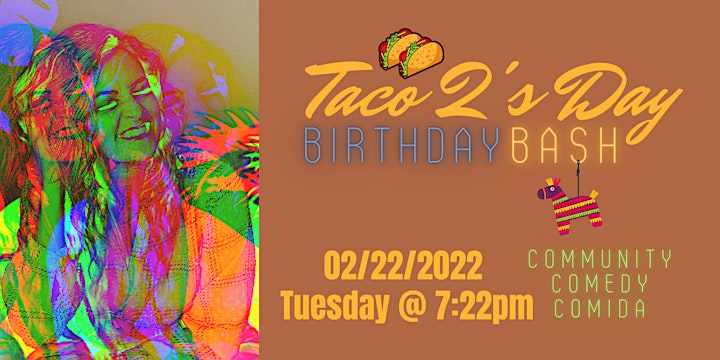 Hi friends, and friends I haven't met yet. I'm Megan - a Boise Idaho native, comedian & improv trainer, and a mom of four awesome kiddos. AND IT'S TIME FOR A PARTY!!!
My 41st birthday falls on TWO TWENTY-TWO TWO-THOUSAND-TWENTY-TWO which is a TUESDAY and we are gonna celebrate TACO STYLE. Join us for some hilarious improv comedy, a piñata n' prizes, and, of course TACOS!
Doors open at 5:30, show starts at 6:30 with piñata bashing to follow. Tacos are included in the ticket price.
Organizer of Taco 2s-Day Birthday Bash
Megan McCaleb is an improv trainer, comedian, and an award-winning author of "Not My Plan; Sucking it in Until I Had to Push it Out," and host of the podcast, "I Hardly Know Her."
She's been a professional improviser since 2006, and has produced comedy shows and training workshops all along the way. She has been the recipient of the Idaho Business Review's "Accomplished Under 40" and "Women of the Year" recognitions, and was voted the Boise Weekly's 2019 Best Local Comedian. 
Bryant is also a commercial actor and spokeswoman, has written dozens of articles for online and print magazines, and wrote/directed/performed her first one-woman show in fall 2017 called "SOMEBODY."