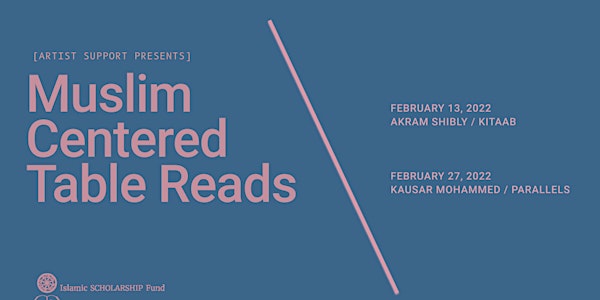 TABLE READ
Join ISF's Muslim Centered; a Table Read series centering Muslim narratives. Our public program is 1.5 hours of performance and feedback.
About this event
February 13, 2022 @ 11AM PST
AKRAM SHIBLY / KITAAB
When a Muslim woman falls in love with an Irish folk singer, she must organize a virtual wedding in order to appease her family – but as they plan the ceremony, they question who they've become.
February 27, 2022 @ 1 PM PST
KAUSAR MOHAMMED / PARALLELS
A supernatural anthology series that explores the Muslim identity within the context of horror and sci-fi (as in Twilight Zone and Black Mirror). Using the Islamic concept of "jinn" as a manifestation of trauma, it explores what it means to exist as Muslim throughout time.
INSTRUCTIONS
If you would like to attend as an audience member simply rsvp for zoom link
To volunteer in the read, please email: artistsupport@islamicscholarshipfund.org