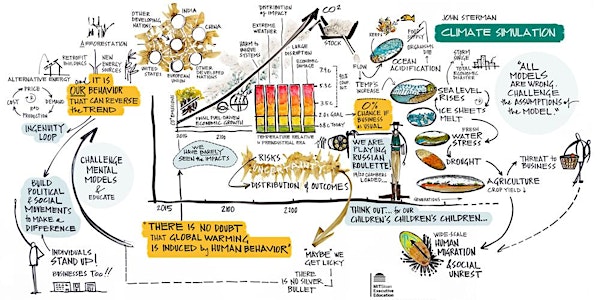 Systems Thinking as Applied to Scribing I
When and where
Location
Ace Hotel Portland, OR 97205
Refund Policy
Refunds up to 30 days before event
Description
This experimental Studio Session will focus our attention on Systems Thinking as applied to scribing.
Many of us have been exposed to areas of Systems Thinking while scribing, but how are we taking the knowledge and bringing it back into how we listen, how we make choices, how we represent ideas? Beyond mapping out these concepts when referenced, how are we explicitly incorporating mental models, feedback loops, behavioral graphs, and leverage points into our thinking while at a wall, poised to draw for others?
This will be a unique occasion to pool our resource and push the boundaries of what we know, together. The proposed structure for the day is based on a traditional learning loop:
Explore: Scan what the group knows; Download experience
Decide: What to dive into; Who shares what; Agree on specific process
Do: Share knowledge; Apply into practice
Reflect: Observe what we have experienced through personal journaling; Walk through our drawings and thoughts; Debrief
Make Sense: Converse; Document Insights; Identify what to explore next
We will come together to learn from the past – what we have done individually – and then venture into what we might embrace as new possibility for our visual practice at large. One intent of the session will be to document what we do along the way, and share our insights back with the broader community of scribes.
PARTICIPATION
This session is intended specifically for practitioners with working experience in live graphic facilitation, since this will be a very specific dive into a very specific topic and application. Please let Kelvy know if you have ideas for future sessions that would be relevant for your particular field of practice.
YOUR GUIDE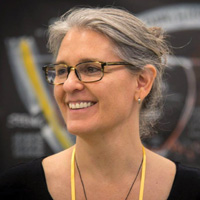 Kelvy Bird has been scribing in organizational and social contexts since 1995, translating spoken word and human dynamics into visual, tangible formats that aid in seeing, reflection, and decision-making. She is a member of The Value Web and on the core team of the Presencing Institute, where she provides extensive visual material for the EdX course u.lab: Leading from the Emerging Future. More
COSTS
Individuals $350
Scholarship $150
Fees include lunch and two breaks throughout the day, as well as basic supplies.
Cancellations: The amount paid minus a $50 processing fee will be refunded for all cancellations received in writing before January 14, 2018. Due to the specific nature of this session, registrations cannot be transferred to other individuals. refunds will be granted for cancellations received after that time. The Organizer is not liable for an event cancellation due to sickness, riots, epidemics, or acts of god.