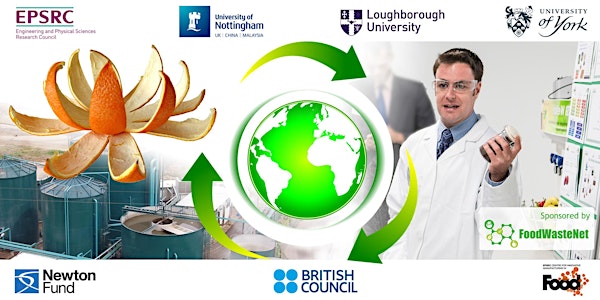 Systems Change Thinking - Creating Value from Unavoidable Food Supply Chain Wastes
When and where
Location
Gateway Building (B01,02) Sutton Bonington Campus The University of Nottingham LE12 5RD United Kingdom
Description
Systems Change Thinking - Creating Value from Unavoidable Food Supply Chain Wastes
This is a free, one-day, event for all stakeholders interested in understanding the chemical and environmental benefits of utilising unavoidable food supply chain wastes.
Food and drink is the largest manufacturing sector in the UK, employing approximately 400,000 people with a turnover of £76 billion. Food manufacturing is a complex process that is in the main linear- rather than circular-thinking. A staggering 9.9 million tonnes of food waste and food by-products are generated per year in the food industry alone, of which 56% is considered unavoidable. Unavoidable food supply chain wastes (UFSCW) lost after harvest and along the distribution and consumption chain have a dual negative environmental impact: undue pressure on natural resources and ecosystem services and pollution through food discards. However, current strategies for dealing with UFSCW are rudimentary and of low value: these include waste to energy (including incineration and anaerobic digestion), and where possible; animal feed and bedding; compositing; ploughing back in to soil; and, least preferable, landfill.
This event explores UFSCW as a unique bioresource: a treasure trove of unexploited, bio-based materials and chemicals, with a range of potential commercial applications.
This will be an excellent opportunity to interact and connect with academics and industrial colleagues
Programme
Systems Change Thinking Event Programme
Map and Parking
The Gateway Building is number 29
If you are driving, please park your car in the Pay & Display visitor parking.