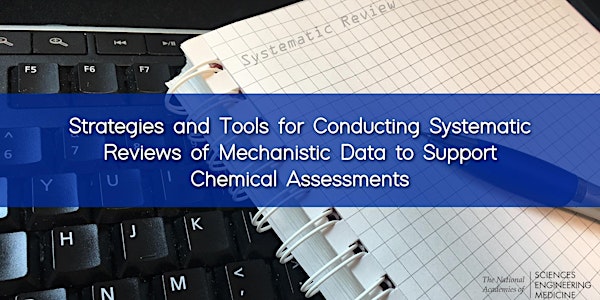 Systematic Review Workshop: Mechanistic Data to Support Chemical Assessments
When and where
Location
National Academies of Sciences, Engineering, and Medicine 2101 Constitution Avenue Northwest Washington, DC 20418
Description
Strategies and Tools for Conducting Systematic Reviews of Mechanistic Data to Support Chemical Assessments
DATES: December 10-11, 2018, Washington, DC
The National Academies of Sciences, Engineering, and Medicine will be holding a workshop on DECEMBER 10-11, 2018, in Washington, DC, on current state-of-the-art in performing systematic reviews of mechanistic data to support chemical assessments. Topic areas include:
• Approaches and tools to search and screen the literature for mechanistic data,
• Approaches to evaluating the validity of mechanistic studies,
• Methods for assimilating and using mechanistic information to support evidence synthesis and integration, and
• Practical experience with implementing systematic reviews of mechanistic evidence into human health assessments.

The objective of the workshop is to explore relevant strategies and tools that are being developed and used across the systematic review and risk assessment communities to assist the US Environmental Protection Agency with developing guidance on performing systematic reviews of mechanistic data to support the chemical assessments in its Integrated Risk Information System program. A poster session will accompany the workshop that will have examples demonstrating the application of systematic review approaches to mechanistic data.

The agenda has been finalized. Download it here!