Join Sweet and Sour Chicks Cast Reunion Q&A + Game Night!
About this event
Celebrate Lunar New Year of the OX with Sweet and Sour Chicks Cast Reunion Q&A + Game Night!
Thursday, February 11th 8PM PT/11PM ET
Meet executive producer, writer, director, actress Kiki Yeung (Founder Crazy Woke Asians, Asian Voices, Little Big Master, Star Leaf, Touch, GodMachine)
Actress Dana Byrne (Top Gun: Maverick, L.A. Rush with Elijah Wood, Little America, Fresh Off the Boat)
Actress Joanne Chew (Showtime, Street Kings, Three Chen Sisters)
Watch Sweet and Sour Chicks official trailer: https://youtu.be/g9XkWHN56kw
Website: http://www.crazywokeasians.com/sweet-and-sour-chicks.html
Free. RSVP Required.
Connect with us on social media:
http://www.instagram.com/sweetandourchicks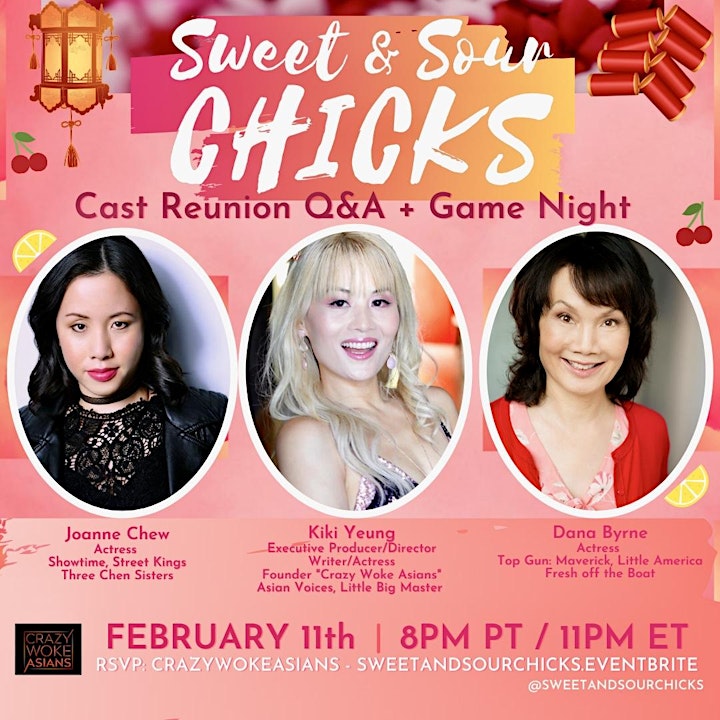 Organizer of Sweet and Sour Chicks Cast Reunion Q&A +Game Night!
Crazy Woke Asians features the funniest Asian American comedians in Los Angeles. With SOLD OUT comedy shows at the World Famous Comedy Store, Comedy Chateau, Ice House Comedy, Santa Monica Playhouse and a SOLD OUT tour in Seattle. Crazy Woke Asians have been featured in The Seattle Times, San Diego Union Tribune, King 5 New Day Northwest, Broadway World, Asian Journal and more!
Coming up: CRAZY WOKE ASIANS in San Diego, New York and Seattle!
Crazy Woke Asians podcast, Crazy Woke Asians Solo Performance Festival at Santa Monica Playhouse partnering with NBC on November 11-14th.
Connect with Crazy Woke Asians on social media @crazywokeasians