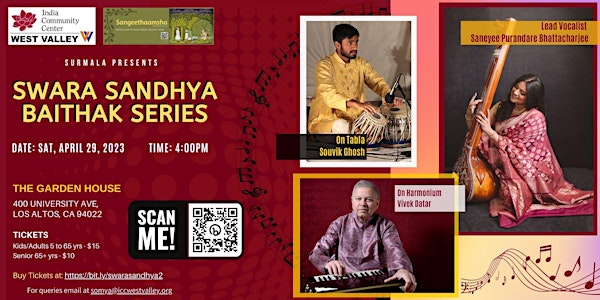 Swara Sandhya Baithak Series 2023
Swara Sandhya Baithak Series (Part II)
Date and time
Saturday, April 29 · 4 - 5pm PDT
Location
The Garden House 400 University Avenue Los Altos, CA 94022
About this event
ICC West Valley's Surmala in collaboration with Sangeethaamsha presents Swara Sandhya Baithak Series 2023
Spring (Basant Rutu) is seen in Indian classical culture as a time to sing, dance, and celebrate. Join us, as we go on a journey of spring as seen through Raag music, thumris, regional sangeet, and film music over the years.
Date: Saturday, April 29, 2023
Time: 4:00PM
Address: The Garden House, at Shoup Park, 400 University Ave, Los Altos, CA 94022
TICKETS ARE LIMITED....BOOK IT FAST!
Adult and Kids (5 to 65 Years): $15
Senior (65+ years): $10
Kids under 5 yrs are allowed free entry
Once you register successfully you will receive a confirmation email.
Payment receipt or confirmation email will be needed at the time of entry for verification.
It is an indoor event. Masks are recommended but not mandatory.
ABOUT OUR ARTISTS
Saneyee Purandare Bhattacharjee- Saneyee is a Hindustani classical and semi classical vocalist based in the Bay Area, California. Her journey began at the age of 6 under the guidance of Smt. Prabha Bakshi in Pune, and went on smoothly for 10 years. Saneyee moved to the US as a teenager and continued her training under the guidance of Smt. Usha Sathe in Orange County. She then received training for a short period under Pt. Arun Dravid. She received a degree in Journalism from the University of California, Irvine, where she was Vice President and then President of the SPICMACAY chapter at UCI. She was instrumental in organizing several successful concerts and lec dems during her time and got to spend time with stalwarts like Vidushi Veena Sahasrabuddhe, Pandit Vishwa Mohan Bhatt, Ustad Ali Ahmad Hussain Khan, Pandit Uday Bhawalkar, and many more artists. After graduating, Saneyee worked for a few years in the field of writing, when in 2011 she finally decided to move back to Pune to deepen her understanding of music. There, she began receiving the tutelage of Vidushi Padma Talwalkar, who continues to be a mountain of talent, knowledge, and Sadhana. Under her guidance, and the guidance of her disciple Smt. Yashaswi Sirpotdar, Saneyee continues to receive and give forward this precious knowledge. She returned to the US in 2013 where her lifelong vision took form as the "Swaraswati School of Music." Along with teaching, Saneyee also performs classical and semi-classical concerts, sings with Kathak dancers, and participates with her students in several community events. She has given many private concerts in USA and India, and also featured in events by MMLA, San Jose - Pune sister cities foundation, Ethnic Dance Festival San Francisco, India Community Center, Shambhavi's International School of Kathak, and Chitresh Das Institute of Kathak, to name a few.
Vivek Datar- Vivek learned the art of harmonium accompaniment and solo from (late)Pandit Vinayakrao Kale, who was a Gwalior Gharana vocalist. Kalebua was a prolific composer has composed over 500 bandishes. Currently, Vivek learns from Vidushi Seema Shirodkar as and when time permits. Vivek is co-creater of the popular vocal riyaaz app, called RiyaazPal used by vocalists for daily riyaaz.. Vivek runs a bi-weekly program, Swar Sudha, on ePrasaran.com, well-known internet radio. Vivek lives and teaches in the San Francisco Bay Area.
Souvik Ghosh- Souvik Ghosh comes from a music-loving family, and started learning tabla at the age of 10 under Sri Muralidhar Pai. Since then, he has received training from Sri Debu Nayak, Ustad Hamid Hossain, and Enayet Hossain. Souvik is currently a disciple of Pandit Abhijit Banerjee at the Dhwani Academy of Percussion. Souvik is originally from Maryland, and he also attended the University of Maryland for an undergraduate degree in computer engineering. He now resides in Cupertino and works as a software developer.