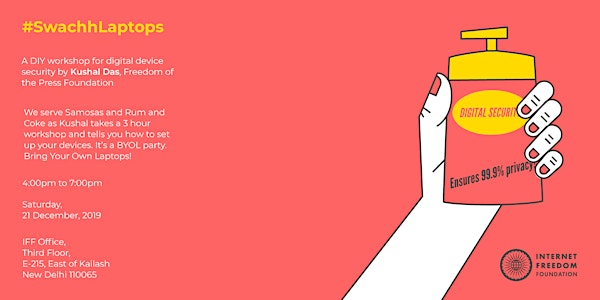 #SwachhLaptops - A DIY workshop for digital device security by Kushal Das
A hands on workshop on digital device security in the age of surveillance by Kushal Das, Freedom of the Press Foundation.
About this event
In this day and age when targeted attacks like the Pegasus Hack are becoming the new normal, all of us need to protect ourselves the best way we can. During the course of this digital security workshop, Kushal will shed light on the best practices to safeguard your devices against different types of threats.
The #SwachhLaptops Workshop will be conducted at the IFF office at E-215, East of Kailash, New Delhi from 4 PM to 7 PM. And as if learning about Digital Security 101 wasn't incentive enough, we will also be serving Samosas and Rum and Coke to our participants as we explore ways in which we can protect ourselves and especially our devices from potential breaches. Bring your laptops and make sure they're charged. Let's do this!
Workshop Requirements:
1. Participants will have to carry their own laptops.
2. Registration is mandatory.
3. This workshop is designed keeping in mind those who are most vulnerable and prone to these attacks like- Journalists, Lawyers, Activists and it's highly recommended for people who work in similar fields.
About Kushal Das:
Kushal Das is a public interest technologist working at Freedom of the Press Foundation, where he is part of the SecureDrop maintainer team. He is also part of the Tor Project Core team. He is a Core Python developer and a director at the Python Software Foundation. He regularly blogs at https://kushaldas.in
Organizer of #SwachhLaptops - A DIY workshop for digital device security by Kushal Das