Description
SVS and Huppin's Present the 4000 Series Subwoofer Launch Event!
SVS and Huppin's will unleash jaw-dropping bass at the Earth-Shaking SVS 4000 Series Launch Event, a thunderous unveiling of new SVS subwoofers with astonishing demos and immersive audio fun. The 4000 Series subwoofers feature technology from the SVS 16-Ultra Series, named top subwoofers in the world by nearly every audio publication and industry group, and bring reference quality bass to a groundbreaking value.
Don't miss a chance to experience room-shaking, pants-flapping sonic thrills at this exclusive event! Plus, you could go home with a $2,000 speaker system or other valuable audio gear from our massive prize giveaway.

ACTION-PACKED LAUNCH EVENT INCLUDES:
Unforgettable live demonstrations of the new SVS 4000 Series subwoofers.
Massive prize giveaways, including grand prize $2,000 SVS home theater speaker system and AV receiver.
Multiple "SVS Experience Zones", including an over-the-top system featuring the secret new products, an audiophile stereo set-up, a compact 5.1 home theater system and more!
SVS president Gary Yacoubian unveiling 4000 Series subwoofers and sharing valuable insights on home theater audio and immersive sound.
Local refreshments.
$2,000 GRAND PRIZE SYSTEM GIVEAWAY:

5 SVS Prime Satellite Speakers – Compact speakers punches well above their class with dynamics and refinement normally reserved for much larger speakers.
2 SVS Prime Elevation Speakers - World's most versatile home theater speaker. It's the best sounding height effects speaker for Dolby Atmos, DTS:X and Auro-3D and a multi-purpose LCR, rear surround, side surround and/or LCR home theater speaker.
SVS SB-1000 Subwoofer - Shatters expectations with massive output and deep bass extension from 12-inch driver, 300 watts RMS, 700 watts peak power amplifier in amazingly compact sealed cabinet.
Dolby Atmos Enabled AV Receiver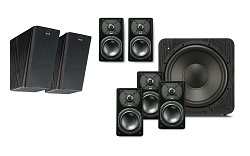 Join SVS and Huppin's for this historic launch event and be one of the first to experience the immersive power of the 4000 Series subwoofers!
Can't attend? No worries, nobody gets left out! Join the fun as we broadcast all of the excitement on our Facebook page with Facebook Live video coverage.