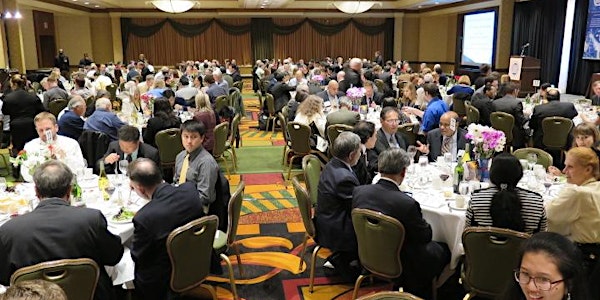 SVEC Engineers Week Banquet 2/25(John Celli, SSL, Michael Trela, Skybox)
Description
The Silicon Valley Engineering Council (SVEC) proudly presents its 2016 Silicon Valley Engineers Week Banquet on Thursday, February 25, 2016. The SVEC honors outstanding individuals for their contributions by welcoming them into its Hall of Fame. The banquet will also feature a distinguished keynote speaker and award several scholarships for academic excellence. The Hall of Fame ceremony recognizes local engineers for their outstanding professional achievements, both in engineering and technology-- and for significant contributions to the community. Tickets are $125 through 2/6 and $140 thereafter. Full tables accommodate 10 diners.
5:30 PM Reception and No-Host Bar
6:30 PM SVEC President's Welcome
6:45 PM Dinner with Friends
Keynote Speaker
Michael Trela, Head of Satellite Engineering, Google + Skybox Imaging

"The New Gold Rush in Space"
Skybox Imaging is a Google subsidiary providing commercial high-resolution Earth observation satellite imagery, high-definition video and analytics services
2016 Hall of Fame Inductee
John Celli, President, SSL

As a young student of engineering, John Celli was so fascinated by watching the landing of Neil Armstrong on the moon and so touched by listening to the cheers and applause emanating from the Eternal City of Rome, that he decided right there to study space technology. His determined pursuit led to his eventual migration to the U.S.A. Mr. Celli's meteoric rise through the ranks to President of SSL, a leading manufacturer of commercial satellites, is what the American Dream is made of. Today, as its top executive, Mr. Celli is responsible for SSL's strategic and business directions. Previously, Mr. Celli held a variety of engineering and management positions within SSL with increasing management responsibility. As Executive Vice President and Chief Operating Officer, he guided SSL through bankruptcy and turned it into the leading and most successful manufacturer of complex geosynchronous commercial satellites. Mr. Celli has championed a culture of cooperation with customers to dramatically improve the quality and reliability of SSL. Recognizing that the future of the satellite industry lies in the passion of the younger generation for science and technology, Mr. Celli has led SSL in promoting the training of students, seeking to attract the best engineering talent from around the globe, and relentlessly supporting STEM education and the CTEq organization. Before joining SSL, Mr. Celli held design and management positions for space products and ground systems at Alenia S.P.A. in Rome. Mr. Celli has a Dr.Eng. in Mechanical Engineering, University of Rome "La Sapienza," Rome, Italy.
-Porchini and goat cheese stuffed chicken (Au Gratin Potatoes, Herb Broccolini, Truffle Butter)
-Pomegranate glazed salmon (Bing Cherry Butternut Risotto, Balsamic Rhurbarb Relish)
-Saffron Vegetable Risotto Paella, Braised Artichokes, Crispy Basil Chips


Dinner includes a organic green salad with c

herries, goat cheese, fennel, candied cashews, port dressing plus

wine, coffee, and international teas. Dessert is c

rème brule, ginger strawberry compote, candied orange zest



No walk ins please. Tickets can also be purchased by sending a check to:
Silicon Valley Engineering Council, c/o Metin Ozen, Treasurer
1210 E Arques Ave #207 Sunnyvale, CA 94085

Organizer of SVEC Engineers Week Banquet 2/25(John Celli, SSL, Michael Trela, Skybox)
The Alliance for Engineering Leaders in Silicon Valley, SVEC is dedicated, through a network of volunteers and local engineering societies, to meeting the needs of the engineers of today and of tomorrow.  Our website is at www.svec.org