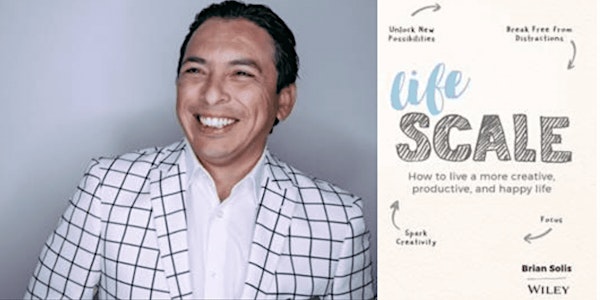 SVB + Create33 Author Series: Brian Solis "Life Scale: How to live a more creative, product and happy life"
When and where
Location
Create33 999 3rd Avenue Seattle, WA 98104
Refund Policy
Contact the organizer to request a refund.
Description
SVB + Create33 Author Series: Brian Solis
Join Create33 and Silicon Valley Bank for an intimiate event with author, Brian Solis.
About Brian Solis
Brian Solis is a one of the world's leading digital anthropologists and futurists who has been called "one of the greatest digital analysts of our time." Brian is also a world renowned keynote speaker and an award-winning author of seven best-selling books including, X: The Experience When Business Meets Design, What's the Future of Business and The End of Business as Usual.
In his new book, Lifescale: How to live a more creative, productive and happy life, Brian tackles the struggles of living in a world rife with constant digital distractions. His model for "Lifescaling" helps readers overcome the unforeseen consequences of living a digital life to break away from diversions, focus on what's important, spark newfound creativity and unlock new possibilities.
For almost 30 years, Solis has studied and influenced the effects of emerging technology on business and society. His research and books help executives, and also everyday people, better understand the relationship between the evolution of technology and its impact on people and also the role we each play in evolution. As a result of his work, Solis also helps leading brands, celebrities, and startups develop new digital transformation, culture 2.0, and innovation strategies that enable businesses to adapt to new connected markets from the inside out.
With a loyal online audience of over 700,000 people online, his work makes him a sought-after thought-leader to leading brands, celebrities such as Oprah, Shaq and Ashton Kutcher and over 1,000 startups around the world.
Brian also hosts (r)evolution, a popular online video series that examines technology, trends and best practices and introduces viewers to the thought leaders who are blazing the trail. Guests have included Katie Couric, Mark Burnett, Shaq, Billy Corgan, and Adrian Grenier.
About Life Scale: How to live a more creative, productive, and happy life
Somewhere along the way, we got distracted. As much as we multitask, love our devices and feel like we're in control, deep down we know that something is off. Shortened attention spans, declines in critical thinking, lack of sleep, self-doubt and decreased creativity are just some of the effects coming to light in an age of digital distraction.
It's time to reclaim our lives. It's time to take control.
Save your seat today! The first 25 attendees will receieve a signed copy of the book!
Questions? Reach out to Jaren Schwartz, Director, Create33: jaren@create33.co