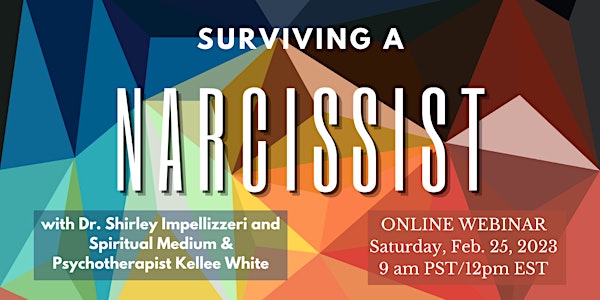 Surviving A Narcissist: Moving On!
How do you identify a Narcissist? Are you walking on eggshells around someone? Join us for this 3-hour webinar about coping and moving on!
Refund Policy
Contact the organizer to request a refund.
Eventbrite's fee is nonrefundable.
About this event
3 hours 30 minutes

Mobile eTicket
SURVIVING A NARCISSIST
Not sure you're dealing with a Narcissist? Take this class and find out!
Need tools to help reduce your stress when dealing with them? We have them!
ABOUT THIS COURSE:
Do you know how to identify a Narcissist?
Is someone gaslighting you?
Do you constantly feel on edge around a loved one?
Narcissists are everywhere!
They use control, manipulation, and emotions to wreak havoc in our lives. But they can be hard to identifty. We'll discuss ways to IDENTIFY A NARCISSIST, SURVIVE A NARCISSIST, and RECOVER FROM A NARCISSIST
LEARN: 
The traits of Narcissist.
Manipulation techniques Narcissists use.
Ways to identify Narcissistic traits and people.
Ways to cope with, survive, and recover from Narcissistic relationships.
​what to expect:
Q&A with Dr. Shirley and Spiritual Medium Kellee.
Resources to take away and use .
Healing techniques both psychological, and spiritual.
ABOUT THE INSTRUCTORS:
Kellee White, Spiritual Medium & Psychotherapist
​Kellee White is a Spiritual Medium and a licensed Psychotherapist practicing with celebrities, corporate executives, entrepreneurs, politicians as well as individuals, couples and families. Her specialties involve her work with trauma, loss, grief counseling, changes and transitions, and fear of death. A major goal of Kellee's therapy is to heal the soul which may include receiving a message from a loved one who has passed on to the other side. Kellee uses many lenses of viewing the soul including astrology, psychic ability and destiny cards in her sessions.
A native of Los Angeles, Kellee climbed the corporate ladder as a senior executive. The Universe intervened in 2000 when Kellee suffered a traumatic brain injury that changed her life forever. Completely confused and not comprehending what was happening, Kellee found herself seeing and talking to "dead people." Understanding her newly found gift and the journey she embarked upon is the subject of her nearly completed book.
Kellee is the co-host of BOTH SIDES NOW & BEYOND with James Van Praagh every Monday at 6pm PST.
Dr. Shirley Impellizzeri
Dr. Shirley is a clinically trained Psychologist with a Doctorate Degree from the University of California, Los Angeles (UCLA). She is also trained in Somatic Experiencing® a form of alternative therapy aimed at relieving the symptoms of post-traumatic stress disorder (PTSD) and other mental and physical trauma-related health issues. She has a successful practice in Beverly Hills, California focusing on individuals, couples and families. She has been featured on many shows such as "Dr. Drew Celebrity Rehab", "The Doctors", "Workout" and was also a recurring guest expert on the Spanish television show "Mujer Today". Born and raised in Los Angeles, Dr. Shirley attended high school in her parent's native Argentina where she was inspired by a psychology course and knew then and there that she wanted to pursue a career in psychology. Living in Argentina during this time allowed her to get in touch with her roots and inmerse herself in the Latin culture.
Dr. Shirley's is the author of two books Why Can't I Change? How to Conquer Your Self-Destructive Patterns and Scared Speechless: 9 Ways to Overcome Your Fears and Captivate Your Audience. She also had a podcast for many years with co-host medium Kellee White called Both Sides Now: Two Perspectives; One World. In it they explored the intersection of psychology and spirituality.