Description
Come early for our Potluck Supper at 6 :00 PM. Orpheus Jazz starts at 7:00pm. Bring your "ax" and stay after to jam or perform your own music or spoken word at our open mic (open til 10 pm)
We're happy to have Orpheus Jazz back at Stillwaters (third time!) They play all the great standards (The Nearness of You, I'm in the Mood for Love to name a few). And if the night is right, you may see (or be?) dancing on the grass under the stars.
ORPHEUS JAZZ is directed by Jim Houck (upright bass); tonight's players feature: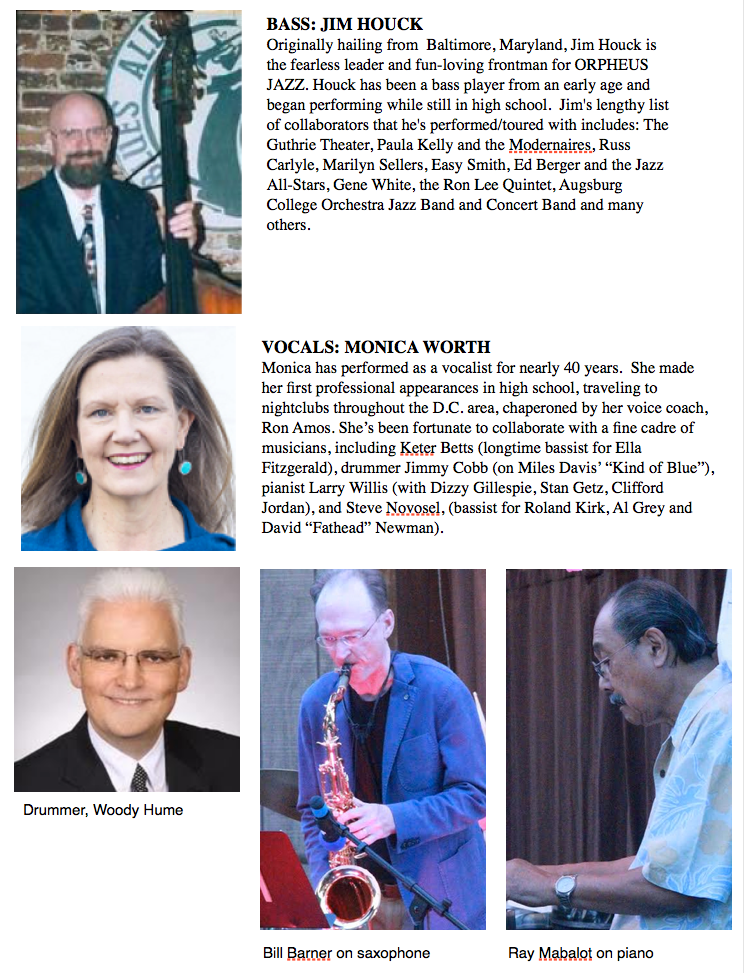 You can listen to some tracks here:
https://www.reverbnation.com/orpheusjazz

...and watch a LIVE video:
Summer Time performed by Orpheus Jazz at Stillwaters Supper and Songs
https://youtu.be/tCVv3YFNytU
...and read about what others say:
"Orpheus Jazz, whether they are backing up a singer or playing on their own, is a fine tuned musical instrument. Their style of Full Speed Ahead Jazz is a very unique sound. The group gives us a fresh, new brand of jazz that is being widely accepted by its audiences. Sometimes you'll hear reminisces of the styles of Getz, Jobim, Kenton and others of that ilk. Their delightful tonality is evident in the blends, nuances and sublties of their craft.--Review Magazine
"This Music Just Sparkles" says John O'Brien of Buck Creek Jazz Band.
"I Heard your outstanding jazz band and was blown away!" says Robert Lighthouse. (And we agree!)

Come to Stillwaters: Eat. Listen. Dance. Play. See old Friends (...and meet new ones too)!
Peace through Music,
Mary and Jeff
PS Polite leashed pets are welcome at our outdoor shows. And you're welcome to come and go (for whatever part of the evening works for you).
6:00 pm Potluck Supper (plates, paper cups, plastic utensils, tables and chairs always provided) 7:00 pm Concert (donation to performers requested)
8:30 -10:00 pm open mic / dessert

Click tickets above to reserve your seat now :)