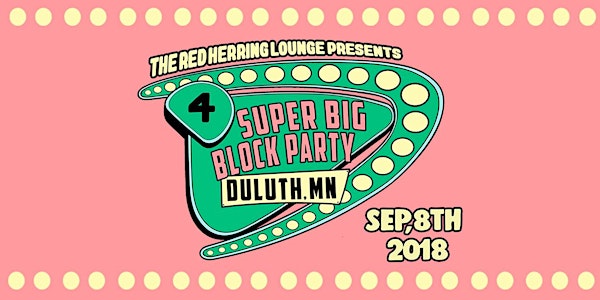 Super Big Block Party 4
ALL AGES
The Red Herring Lounge and Zeitgeist Center for Arts & Community
ADVANCED SALES HAVE ENDED, BUT YOU CAN DEF GET TIX AT THE GATE! IT WILL NOT SELL OUT :)
When and where
Location
The Red Herring Lounge 208 East 1st Street Duluth, MN 55802
Performers
Headliners
More Performers
Static Panic
Heiruspecs
Communist Daughter
About this event
//Hippo Campus - 9:00pm
Hippo Campus is a band from St. Paul, Minnesota. Formed in 2013, prior to graduating from performing arts high school, the band started on a break out trajectory following a series of talked-about performances at SXSW. This was immediately followed by their network television debut on Conan. They've since risen to the forefront of their genre on the backs of relentless touring and the strength of their debut album 'landmark'.
In October 2017, the band released their self-produced EP 'warm glow' as an ode to loyalty and self- preservation. "We had tunes that didn't fit on 'landmark' but took on a life of their own." The EP was recorded at Pachyderm Studios in Cannon Falls and mixed by 'landmark' collaborator BJ Burton.
The band has been working on their second full length studio album since March of 2018.
Lissie - 7:40pm
Lissie grew up in Rock Island, Illinois, near the Mississippi River, speaking her mind and writing songs from an early age. She will release her fourth studio album Castles on March 23. The new music follows the release of her 2016 album My Wild West, which received widespread critical praise.
Written predominantly from Lissie's new home in Northeast Iowa, Castles represents a spiritual as well as musical development. It's a portrait of an artist who has always been on the move and is finally creating a sense of permanency—a chance to catch her breath and reflect. Of the record, Lissie says, "The album title Castles and the themes of the music itself suggest a striving and a heightened vantage point. I can stand above myself in the tower of my mind and reflect on my relationships and life. There is a maturity, experience and self awareness to these songs that feel like a natural progression within the context of my work to date."
Lissie's album My Wild West—the follow up to Catching a Tiger (2010) and Back to Forever (2013)—peaked at #1 on the Billboard Heatseekers chart and Top 10 on the Independent Album chart. Lissie also appeared in the most recent season of David Lynch's Twin Peaks with NME saying of her "intense" performance: "Closing the episode with the Stevie Nicks-esque 'Wild West,' Rock Island's most exciting troubadour more than earned her Lynch-commissioned screen time."
Heiruspecs - 6:20pm
Heiruspecs started out as a high school band which turned into a full-time touring band from 2002-2005. They put out fantastic records and work hard to take care of the Midwest region by playing shows out of town. They miss their hard-earned fans all across North America and beyond but given the schedules and alimony payments of all the gentlemen in Heiruspecs the cost to get Heiruspecs out to California, England, Hawaii, Alaska et cetera might have more commas in it than you'd expect.
Static Panic - 5:00pm
The funk-electronic trio of Ro Lorenzen, Keston Wright, and Eli Kapell formed two years ago and is poised to bring the dance party to the Entry on Saturday. Lorenzen, who comes from a music family, started singing around age five and learned to play piano and violin. They (Lorenzen uses they/them pronouns) met Wright in high school and later recruited Kapell to collaborate on this sexy throwback sound. Chrome is a gutsy exploration of self-discovery and desire.
Communist Daughter - 3:45pm
Solomon - 2:45pm
As the son of a minister, Solomon began singing at an early age and later in the church choir. As a rising star, he has shared stages with two musical icons Prince and Larry Graham. He is currently completing his second album, Starlight, as a follow-up to his 2012 Kingdom CD. Tours are currently being planned for the US and Asia that will include ambassador events.
Solomon discovered a natural audience with chronically and terminally ill children when asked to be an ambassador for several organizations. His amazing connection with these children and their families, and dedicated time and effort, has set him apart from many other successful entertainers. No stranger to family tragedy and illness with the deaths of his brother, sister, and father, Solomon's empathy shows in every song he writes and in every conversation he has with a child in need.
// SUPER BIG AFTER PARTY* //
Featuring:
- Tiiiiiiiiiip / tip w/ ten i's
- Àlamode
- Duluth Dolls
- Nate Millyunz
- Renagade
- Jayso Creative
- jamesg
*Super Big Block Party is all ages. The After Party is a 21+ event.