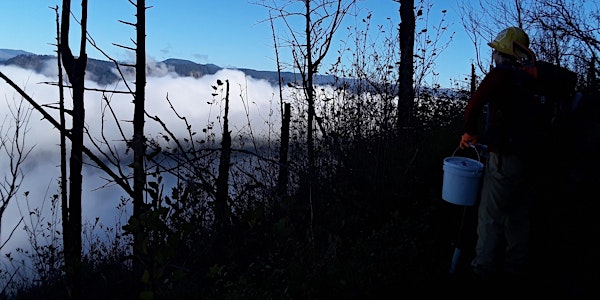 Sundays on the Ridge (Franklin, that is)
Seasonal clean up of Franklin Ridge Trail #427
When and where
Location
Snow gate at Larch Mountain Road and Palmer Mill Road E Larch Mountain Rd & Palmer Mill Rd Corbett, OR 97019
About this event
Crew Leader: Hope McKee
Hike Distance: 4 - 6 miles
Elevation Gain: 1300 - 1700'
Hike Difficulty: Hard
Work Difficulty: Moderate
Work Description: Brushing, minor tread work, clearing small downed trees, and logout of any larger trees
Project Overview:
We'll go through the Palmer Mill gate and park on Multnomah Basin Road just above the steep downhill section. We'll walk down to the junction with Larch Mountain Tr (#441), head south on Tr 441 to the Franklin Ridge Trail. From there we'll head up to the ridge and start our work! We'll bring some bigger saws if we found any larger downed trees on our previous trailparty, but will likely continue brushing and clearing this trail to its connection with the Oneonta trail (424).
What to Expect:
We'll meet at the snowgate and drive to the top of Multnomah Basin Road, park there, and start our hike to Franklin Ridge. It's a robust hike, and could be warm, so please bring a lot of water or a filtration device.
You will be asked to electronically sign an e-waiver for this event and perform a self-assessment health screening within the 24 hours proceeding the event. The crew leader for this event will verify that you have done both of these requirements at the trailhead before the party begins. Your pre-event emails will contain further details and links for both of these requirements.
You should expect to participate in this work party for its entirety. For safety reasons, please do not arrive late or expect to be able to leave early. TKO will supply all necessary tools and hard hats.
What to bring:
Lunch, plenty of water, snacks, gloves, hardhat, eye protection, face covering, and personal sanitation kit.
Your own equipment if you have it (loppers, pruners, big saws if we need them).
What to wear:
Boots (Please wear something sturdy that will protect your toes from sharp tools. No tennis shoes allowed!), Long sleeved shirts and pants, Work gloves, Rain gear as appropriate for the weather
Directions: Head east on Hwy 84, take exit 22, turn right on NE Corbett Hill Rd (1.4 mi), turn left toward Historic Columbia River Hwy (246 ft), slight left onto HCRH (1.9 mi), slight right on Larch Mountain Rd (9.8 mi). Stop at the snow gate and park on the left.
================================================================
LAND ACKNOWLEDGEMENT: TKO recognizes that the trails we work on travel through the traditional lands of many Indigenous tribes. In every corner of what we now call Oregon, these people were forced to cede their land, their home, to the US government at various times from 1853 - 1871. We are privileged to be here today & express gratitude to the descendants of these tribes for being stewards of this land.
EQUITY & INCLUSION: TKO seeks to make Oregon's trails a place where people can go to connect with nature & one another. Not everyone feels safe & welcome in the outdoors due to racism, bias & hate. We commit to being part of the solution to change that. Conduct, speech, or expressions that target individuals or groups will not be tolerated by TKO, regardless of whether they are based on age, citizenship, disability, ethnicity, gender identity/expression, geographic origin, language, marital status, nationality, race, religion, sexual orientation, or socioeconomic status.
PERSONAL SAFETY: Your physical & emotional safety is our number one priority. If a person's actions or comments make you feel uncomfortable/unsafe - interrupt directly, tell a crew leader &/or complete the post-event survey.