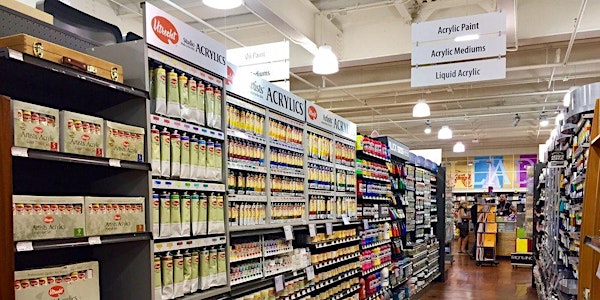 SUNDAY: The Blick SuperStore Sketch Event
The Blick SuperStore Sketch Event
When and where
Location
443 Broadway 443 Broadway New York, NY 10013
About this event
As New York based artists we all want our local art stores to do well.  Many of us are still in shock at the closing of New York Central and Pearl Paint.  So, it's exciting news that Blick has built a super-store on Broadway near Canal Street .  NYC Urban Sketchers has been invited to a special viewing at the new store.
Blick is preparing a special good-bag for everyone.  Since this requires a bit of work by Blick they've asked us to preregister.  If you use the link below to preregister - there will be a special gift there for you.
The Blick event will influence our day of sketching.  We are expected at the store at 11 AM.  We will meet at a nearby park for about a half hour of sketching before we walk to the new store.  See you at the Albert Capsouto Park at 10 AM.
DETAILS
What: We will be sketching NOCAN - North of Canal Street. We will be sketching there to warm up and then we will walk to the new Dick Blick Store at 443 Broadway. Our tour of the new store will begin at 11. They will have demos and interesting products for us to see, and - a goody-bag if you pre registered
Where: We're meeting at the Albert Capsouto Park located at the corners of Canal and Varick Streets. Then we will walk to the new Blick store at 443 Broadway. (see map).
When: Meet at 10 AM. Sleeping late? Come anyway - we'll be there
How:
- By Subway: Canal St. - #1, A, C, E, N, Q, R, W or the #6 train
(see map below).
Lunch: 12:30 PM . Bring your own or rely on local vendors. There are loads of food options in this neighborhood. There are two parks nearby, the triangle shaped park labeled #1 on the map will be our first choice for lunch and for our Show and Tell. The park labeled #2 is our backup location.
Afternoon: 1:15 PM Back to the sketching in the area
Show and Tell: 2:00 PM - We'll be sharing our work in the store
NOTE:
- Bring a hat and be prepared for sunshine
- Bring a stool, it gives you more options.