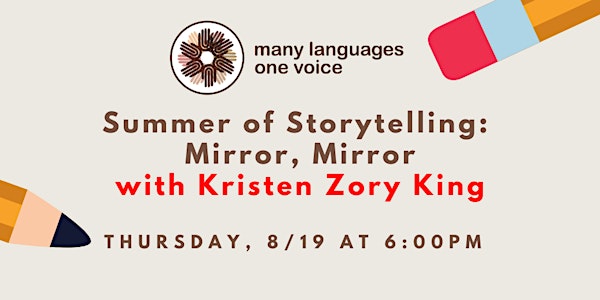 Summer of Storytelling: Mirror, Mirror
Join MLOV for a free creative writing workshop to tell your story! This month, we will explore ourselves and the faces we show the world.
About this event
English | Español
Join Many Languages One Voice for five free, monthly creative storytelling workshops this May-September! Throughout each session, we will examine contemporary pieces around a theme and then generate our own work based on prompts and guided discussion. This month, we will reflect (with gentleness) on the many faces we show the world, examining writing that explore the multiple identities we all can hold. You do not need to be an experienced writer or poet to participate—beginners, journal-ers, and writers all welcome.
-
¡Acompañe MLOV en un taller gratuito de escritura creativa para contar su historia! Este mes, nos exploraremos a nosotros mismos y los rostros que mostramos al mundo.
¡Únase a Many Languages One Voice para participar en cinco talleres mensuales sobre narración de historias creativas este mayo y septiembre! A lo largo de cada sesión, examinaremos piezas contemporáneas en torno a un tema y luego generaremos nuestro propio trabajo basado en indicaciones y discusiones guiadas.
Este mes, reflexionaremos sobre las diferentes caras que mostramos al mundo. Vamos a examinar escritura que explora las múltiples identidades que todos podemos llegar a tener. No es necesario ser un escritor o poeta para participar; todos son bienvenidos!
About the teaching artist | Sobre el artista encargado de el evento:
Kristen Zory King is a writer and teaching artist based in Washington, DC. Kris is a three time recipient of a DC Commission on Arts and Humanities Fellowship and an alum of the 5th Woman Fellowship in Knoxville, TN and the 202Creates Residency Program in Washington, DC, where she has also served as a mentor. Currently, Kris serves as 2021 Humanities Scholar with Many Languages One Voice. Recent writing can be found or is forthcoming in Electric Lit, The Citron Review, and SWWIM among others. Learn more or be in touch at www.kristenzoryking.com.
-
Kristen Zory King es escritora, artista y docente con sede en Washington, DC. En tres ocasiones Kris recibió una beca de la Comisión de Artes y Humanidades de DC, fue alumna de la 5th Woman Fellowship en Knoxville, TN y del Programa de Residencia 202Creates en Washington, DC, donde también se ha desempeñado como mentora. Kris se desempeña como Becaria de Humanidades con Many Languages One Voice. Pueden encontrar escritos recientes de ella en Electric Lit, The Citron Review y SWWIM, entre otros. Obtenga más información o póngase en contacto con ella en www.kristenzoryking.com.
Language access | Idioma:
Simultaneous interpretation will be available in Spanish. If you require interpretation in French or Amharic, please contact rebecca@mlovdc.org.
-
Habrá interpretación simultánea en español. Si necesita interpretación en francés o amháric, comuníquese con rebecca@mlovdc.org.
Digital access | Acceso digital:
If you are a MLOV member and resident of the District of Columbia, you may be eligible for one-year of high-speed Internet access. Please contact rebecca@mlovdc.org to learn more.
-
Si es miembro de MLOV y reside en el Distrito de Columbia, puede ser elegible para un año de acceso a Internet de alta velocidad. Comuníquese con rebecca@mlovdc.org para obtener más información.
Summer of Storytelling | Verano de Historias:
This workshop is part of MLOV's Summer of Storytelling to uplift the voices of immigrants, refugees, and BIPOC folks from the frontlines of the COVID-19 pandemic and economic crisis through writing workshops, yoga, and events like this one. MLOV will work with participants who wish to share their story with the larger DC community through an artistic medium of their choice. Storytellers will receive a $150 stipend. To learn more, please be in touch with rebecca@mlovdc.org.
-
Este taller es parte del Summer of Storytelling de MLOV para elevar las voces de inmigrantes, refugiados y personas de BIPOC desde el frente de la crisis económica y la pandemia de COVID-19 a través de talleres de escritura, yoga y otros eventos similares. MLOV trabajará con los participantes que deseen compartir su historia con la comunidad más grande de DC a través de un medio artístico de su elección. Los narradores recibirán una compensacion de $150.