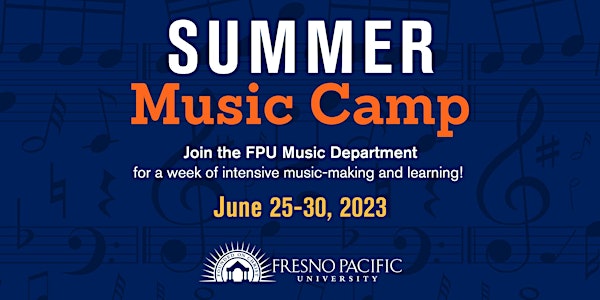 Summer Music Camp
Join FPU for our annual Summer Music Camp!
By Fresno Pacific University
Location
Fresno Pacific University 1717 South Chestnut Avenue Fresno, CA 93702
About this event
Join the Fresno Pacific University Music Department for our 2023 Summer Music Camp! The camp will take place from June 25-30, 2023 and is for students entering grades 6 through 12 (ages 11-19 as of September 1, 2023). It will be a week of intensive music making and learning, where students will study with outstanding university music faculty as we seek the development of personal responsibility, including effective practice habits, mutual respect and conceptual education as opposed to mere rote learning.
Programs offered: Band, Orchestra, Choir, Piano, Contemporary Worship, Musical Theater
Please note: to benefit from the full camp experience, students registering should have experience in at least one of the following categories for a minimum of a year:
School band or chorus
Private instruction
Regularly reoccurring church ensemble participation
We happily welcome students from novice levels all the way up to advanced. Feel free to email music@fresno.edu with any questions.
FEES
Early Bird Deadline: May 15, 2023
*Register before May 15, 2023 and receive a $25 discount!
Registration Deadline: June 1, 2023
Resident Camper (tuition, lodging, food, insurance): $515
Day Camper (tuition, insurance): $320
Day Camper Lunch Ticket (Optional Add On): $50 - for our day campers who would like to purchase lunch in the cafeteria (resident campers do not need to purchase, food is included in their price). The price is for the whole week and just includes lunch. If day campers do not purchase lunch ahead of time, they must bring their own each day (lunch will not be available for purchase during the camp).
*All amounts paid are nonrefundable. Early application is recommended, as enrollment is limited.
When registering, please be sure to have the camper's shot records handy.
TO APPLY FOR A SCHOLARSHIP
Please read all of the below before applying.
(Deadline May 1, 2023 to Apply)
We offer a few limited scholarships to campers, giving a discount of $100 to those registering as a day camper and $200 to those registering as a resident camper. We do not offer full scholarships
To apply for a scholarship, you must first pay the $50 nonrefundable scholarship application fee. Click on the "Tickets" link above to purchase
If you are applying for a scholarship, do not purchase the regular registration, just purchase the $50 application fee. If the camper receives a scholarship, you will pay the difference for the registration ($145 for day camper, $240 for resident camper - the $50 application fee applies to the final amount). If they do not, you will need to pay the full amount (you will still be able to get the early bird discount)
Once the scholarship application fee is purchased, send an email to music@fresno.edu with the student's first and last name in the subject line and include either MP3 attachments or YouTube links of the student performing two short contrasting pieces of music no more than seven minutes total
A letter of reference from music teachers or directors should also be attached to the email
All emails, links and attachments of performance recordings must be received by May 1, 2023
No scholarship application will be considered without the $50 deposit paid through Eventbrite