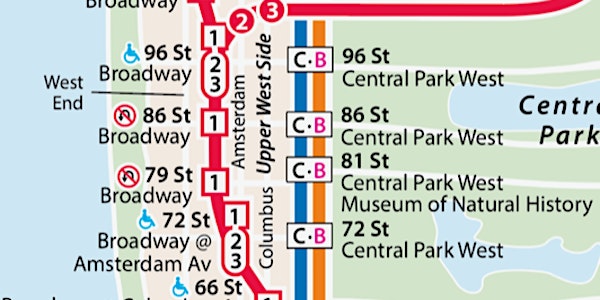 Subway Maps: The Good, the Bad, and the Better?
An enjoyable and unique perspective on the history of New York Subway Maps
Refund Policy
Contact the organizer to request a refund.
Eventbrite's fee is nonrefundable.
About this event
ARTISAN LECTURE SERIES FALL 2020
Subway Maps: The Good, the Bad, and the Better?
With John Tauranac, Architectural and Social Historian
This will be an Online Lecture on Tuesday, December 15th at 6pm
John Tauranac, architectural and social historian, will give an illustrated Zoom-talk on the history of official subway maps, with an occasional unofficial map thrown in for good measure. Mr. Tauranac writes on New York City's social and architectural history and teaches the subject at NYU's School of Professional Studies, and he just happens to design maps as well.
John Tauranac fell into mapping as much by accident as design. In the early 1970s, he started writing about the undercover passageways that pedestrians could take in Midtown to stay dry in the wet and warm in the cold. Only to realize, to quote Mr. Tauranac, "that what I was writing was an instant cure for insomnia." With no training in studio art or graphics, he decided to chart the passageways of Midtown and Lower Manhattan. New York Magazine liked his roughs and had them metamorphosed into the "Undercover Maps."
Mr. Tauranac went on chair the MTA subway map committee for the bulk of its existence in the late 1970s, and he was the creative director of the award-winning and critically praised 1979 MTA subway map. That map won its share of kudos – an editorial in The New York Times ("The Best Subway Map in Years"), a review by the Times architectural critic, Paul Goldberger ("At Last, A Usable Subway Map"), and he's still at it.
He has designed dozens of maps since, including his street atlas, Manhattan Block By Block, and his newest subway map, which he believes is not just didactic, it is swellegant.
Mr. Tauranac's books, include Manhattan's Little Secrets, The Empire State Building: The Making of a Landmark, New York From the Air, and Elegant New York. He has also written numerous articles for many publications.
Suggested donation:$15 General Admission; $10 General Society Members and Senior Citizens; $5 Students.
Advance registration is required to receive the link to the zoom webinar platform.
www.generalsociety.org