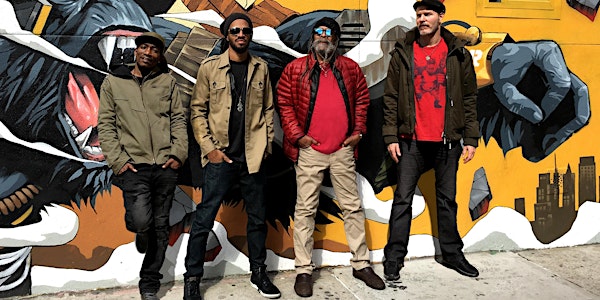 Subatomic Sound System + Screechy Dan , Addis Pablo, & Green Lion Crew
Performers
Subatomic Sound System
Screechy, Addis Pablo, Green Lion Crew, Screechy Dan
Location
Granada Theater
3022 Hennepin Ave S
Minneapolis, MN 55408
Dubwize MPLS Featuring From NYC, Subatomic Sound System +Screechy, From Jamaica, Addis Pablo & Green Lion Crew with Special guest.
About this event
Subatomic sound System + Screechy Dan
Spearheaded by producer, DJ, and multi-instrumentalist Emch, NYC's Subatomic Sound System is leading a mission to re-establish the bass heavy, spacious soundscapes, and live improvisational remixing of traditional Jamaican dub music at the forefront of today's independent, producer-fueled, beat and bass driven electronic music. Subatomic has tours globally as DJ, dub soundsystem, or live band, working for over 8 years as the go to band for Grammy winning reggae legend Lee "Scratch" Perry to reincarnate the Black Ark studio sound live on stage. Subatomic Sound System recently topped both reggae and electronic charts with their "Super Ape Returns To Conquer" album, a 21st century reimagining of Perry's visionary 1976 album . The new album breaks ground of its own as Subatomic uses technology to create an unprecedented level of dynamic improvisation between live performers, computers, and studio manipulation, exploding traditional concepts of what is a live performance versus a studio recording. Other releases with dancehall artists like Anthony B, Elephant Man, and Jahdan Blakkamoore have further defined the wide reach of the Subatomic Sound dub style as well as unlikely collaborations and remixes with filmmaker David Lynch, punk pioneer Ari Up of The Slits, a variety of electro cumbia producers, and more. The Subatomic live show has toured the world as an innovative combination of electronics and live instruments which recently inspired a viral documentary by Great Big Story.
Addis Pablo
Addis Swaby aka Addis Pablo is a reggae instrumentalist, composer, and producer. Addis is a talented melodica and keyboard player. He is the son of the legendary Jamaican melodica King and dub vanguard, Augustus Pablo.
Addis was born on August 18th 1989 in Redbank, New Jersey. He was raised in Jamaica at the home of his father. Throughout his childhood Addis become a natural apprentice of his father by observing from an early age the day-to-day activities of his father's creative process both in the recording studio and on stage performances.
By 2005 Addis began practicing his father's works and began developing his own musical style on the melodica and keyboards. He learned about digital and analog production from various sources including some of the Original Rockers Crew (Augustus Pablo's band). Addis began to record and perform in 2010 and released various songs and compilations in the following years including "For the Love of Jah" and "13 Months in Zion" on his production label, Suns of Dub. He also recorded various songs for producer Rory from Stone Love Sound System including "Call of the Righteous" and Jah 9's "New Name."
In 2013 Addis was invited to join the legendary Inner Circle for a tribute to Jacob Miller at the Garance Festival in France. Since his festival debut, Addis has performed at many major festivals and venues across Europe and the UK including Rototom Sunsplash, Reggae Jam, Reggae Sun Ska, and The Jazz Cafe in London. Addis also traveled across Asia for festivals in Japan such as the Mount Fiji Festival and shows in Singapore, Malaysia, and Hong Kong. Addis has also been featured on stages in America including California at the "Reggae on the River Festival" and alongside Queen Ifrica and Alborosie in New York City. His tours have also taken him to Mexico City and Puerto Rico.
In 2014 Addis released his debut album "In my Fathers House" featuring guest artists such as Earl 16, Prince Allah, Cheziedek, and Sylford Walker. Addis has worked with many of his new generation contemporaries such as Chronixx and Protoje on the "Selassie Souljahz" dub version. He has also been featured on various styles of reggae music including the dancehall genre with artists Masicka and Shanique Marie. In 2016 Addis and Equiknoxx Music collabarated on the Majestic Melodies mixtape which featured various artists including Mr Williamz, Shanique Marie, and Lila Ike. Addis was notably featured on Grammy nominated albums in 2020 including Julian Marley's, "As I Am" and "Sly and Robbie vs Roots Radics."
Green lion crew
At the controls of a potent dancefloor experience that draws from reggae dancehall, hip hop and the synthy beats of urban electro, producer/DJ Green Lion is a sonic craftsman at home both on the decks and in the studio. Honed in the heated atmosphere of Jamaican sound system culture and a constant schedule of live club and concert dates in the United States, all Green Lion productions–on record, over the air or live and direct–are energetic affairs designed to set bodies in motion. Green Lion's movements are coming fast and furious now as charting success and critical acclaim for recent productions with reggae and crossover tastemakers such Chronixx, Kabaka Pyramid, Beenie Man, Mr Williamz and Collie Buddz lock in spots on international sales charts and heavy rotation on commercial radio around the world.
Green Lion's production, the Rough Road Riddim, is a perfect example. Rooted in reggae dancehall, the Rough Road invokes a creeping hip hop beat before opening the door to the wonky synths and spacious soundscapes typical of electronic movements. Featuring reggae dancehall's most sought after vocalists (Chronixx, Jahdan Blakkamoore, Kabaka Pyramid, Dre Island, Zamunda, Cron Syncro) the Rough Road reached #1 on Beatport, #4 on Juno while amassing humbling words of praise: "A groundbreaking riddim" (Forward Ever), "One of the best riddim tracks in a long time" (Blatantly Blunt).