Learn how to style your everyday outfit with confidence while sipping wine, eat some hors d'oeuvres and SHOP 'till you (don't drop)!
About this event
Join us for a night of style, fun, food and live music!
Ever wonder how to put together your outfit seamlessly everyday? Well, wonder no more! Come to our Style with Confidence workshop and learn how to style your everyday outfit from Aida Cubas, an image consultant & stylist based in Los Angeles.
L. A. Based, Mexico raised, Aída Cubas is a fast-growing, hardworking image consultant entrepreneur with five years of experience in the industry. Communication graduate with an Image and Multimedia Major, currently enrolled in the Fashion Essentials Certificate Program from the Parsons School of Design and the editorial team at Teen Vogue. She has a lifetime passion for all things tasteful, aesthetically pleasing, and visually appealing.
Some of her credits include working with international brands like Charles David Shoes, Italian shoe brand Rangoni, and Indonesian fashion accessories brand Everina. Styling music videos and tv show photo shoots like Lifetime reality show "Growing Up Supermodel." Doing wardrobe for Hillsong Church conferences and events, multiple red carpets and promotional ads.
Her current passion is helping others polish their personal style, championing body positivity and self-love, and breaking the stigma behind the idea that you need to spend, and have a lot, to look great and be stylish.
"Create your own style. Let it be unique for yourself and yet identifiable for others."
— Anna Wintour
---
Shop the latest women's and men's apparel and accessories collection from Hexi Los Angeles and handbags from Everina during the event!
Rundown of program:
6pm -7pm: Live Music by DJ EBT (loungy, house, electro)
7pm - 7:45: Style with Confidence Workshop (+ Q&A)
7:50pm 7:55: Special Performance of Jakarta Traditional Dance
8:00pm - 9:pm Live Music by DJ EBT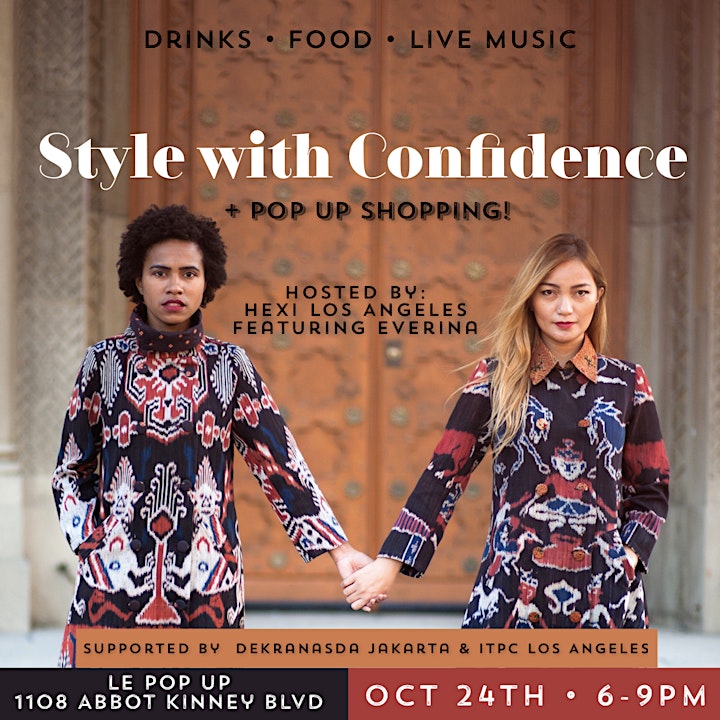 Organizer of Style with Confidence Workshop + Pop Up Shopping!
EVERINA is a fashion brand that provides chic and ethical fashion while empowering artisans especially in Indonesia. Everina works hand-in-hand with artisans in Indonesia to produce and curate bohemian yet chic handbags such as strawbags and ikat - choosing the right designs, color and style for the modern and confident women
In the spirit of nation-branding, HEXI is focused on a service-centric effort to boost awareness and appreciation for Indonesia. Our cultural heritage, skilled crafters, innovative artists, quality products, and a vast array of natural beauty are some of many assets that are uniquely Indonesia.
Through HEXI, we invite you to explore Indonesia!