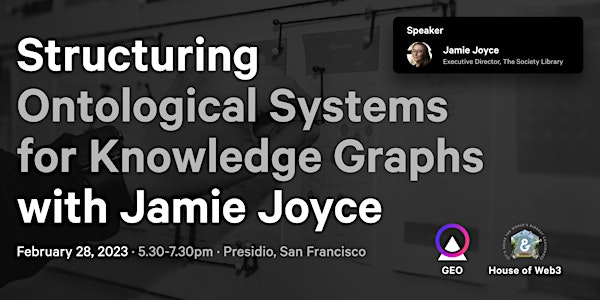 Structuring Ontological Systems for Knowledge Graphs with Jamie Joyce
Learn how to structure ontological systems for knowledge graphs with Jamie Joyce.
When and where
Location
House of Web3 Building 103 Montgomery Street San Francisco, CA 94129
About this event
How do we structure and make sense of complex topics?
During this talk, Jamie Joyce will give an overview of knowledge management projects, identifying goals, schemas, processes for developing ontological designs and validation mechanisms appropriate for different knowledge graph use cases, as well as discussing crowdsourcing vs. curation and descriptive vs. prescriptive development.
In the burgeoning ecosystem of knowledge management projects percolating in the Web3 and decentralized spaces, should there be closer coordination between projects to ensure interoperability so no knowledge work is wasted? If so, how might that be accomplished in the short and long term? Jamie is the chief ontological engineer of the Society Library Standard - a discourse mapping data ontology, as well as The Society Library Executive Director, lead of the Internet Archive's U.S. Democracy's Library program, and a 2022 Foresight Institute Collective Intelligence Fellow.