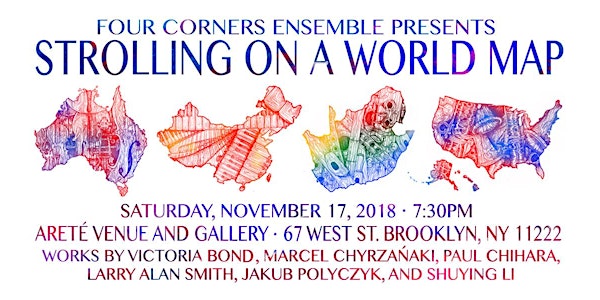 Strolling on a World Map
When and where
Location
Areté Venue and Gallery 67 West Street Brooklyn, NY 11222
Description
Four Corners Ensemble presents four dynamic mini-concertos from its "World Map Concerti Series." Composed by award-winning composer Shuying Li, "World Map Concerti" is a multi-cultural and multi-national collection with virtuosic soloists and a soloist-level "orchestra". These concertos focus on each soloist's unique geographical, cultural and personal identities.

Come meet the amazing soloists, Erika Boysen, Siyuan Li, Joshua Anderson, and Jinn Shin; and enjoy premieres of flute concerto "Click Song," based on South Africa's "Quongqothwane;" clarinet concerto "American Variations," on an original theme in various American music styles; piano concerto "Canton Snowstorm," an imagination of a heavy snowstorm in the warmest place in China; and cello concerto "Matilda's Dream," a fantasy based on Australian folk song "Waltzing Matilda."

In addition, Four Corners will present works by Paul Chihara, Larry Alan Smith, Victoria Bond, Marcel Chyrzyński and Jakub Polycczyk, with guest performers Wojtek Komsta and Jakub Polaczyka, dive-in of some of the most dynamic contemporary repertoire by living composers.