Description
In physics, String Theory is the idea that everything in the universe is connected by tiny invisible threads of energy. At Campus District, we love nurturing and connecting the people making remarkable things happen in our neighborhood. Join us at our annual meeting and see these connections and energy made visible.

11:30 am to 12 noon - Lunch
12 noon to 1:00 pm - Annual meeting, awards and keynote address


Keynote Speaker: Julie Beers, Principal of Campus International K-8 School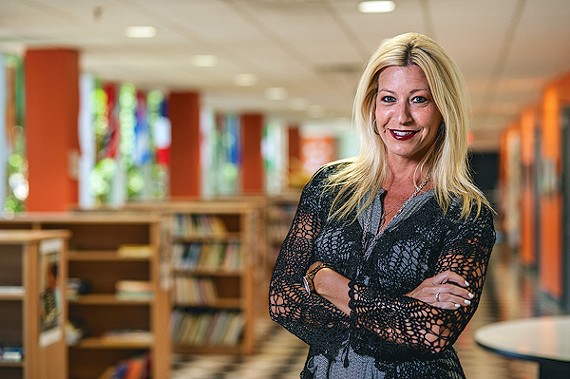 Julie Beers is the well-loved leader of Campus International School, formed by the partnership between Cleveland State University and the Cleveland Metropolitan School District (CMSD). This portfolio school of CMSD opened its new K-8 building in August at E. 22nd & Payne Avenue in the Campus District. This high-performing International Baccalaureate school teaches children the core qualities needed to become well-rounded citizens of the world. These qualities include inquiry, thoughtfulness, communication, risk-taking, knowledge, principle, caring, open-mindedness, balance and reflection. Principal Beers will speak about how, during these tumultuous times in our country and world, developing CIS's core qualities can make all of us better community members and "citizens of the world".
Celebrate our Awardees
Partnership Award: Eric Gordon, Cleveland Metropolitan School District and Dr. Ronald Berkman, Cleveland State University for Campus International School

Leadership Award: Superior Arts Special Improvement District Steering Committee -- Edna Akrish, Joseph Bowman, Dan LaGuardia, Karen Perkowski, Antonin Robert, Lawrence Sharp, Amanda Sinkey LaGuardia and Terry Stineman

Volunteer Award: Deanna Dionne, Superior Arts District Resident and Artist

Investment Award: Ralph A. Falbo , Inc., Pennrose Management Company, Cuyahoga Metropolitan Housing Authority for Sankofa Village

Visonary Award: Cuyahoga Community College (Tri-C) for the Transformation of the Tri-C Metro Campus and Campus Center

Moving us Forward: Infastructure Award: Greater Cleveland Regional Transit Authority for the New East 34th Street Station


Thank You to Our Sponsors!
Presenting Sponsors:
Chemical Bank and
Sisters of Charity Foundation
Platinum Sponsor:
Mansour Gavin, LPA
Gold Sponsors :
American Campus Communities ~ Cleveland Neighborhood Progress ~Coral Company ~ Frangos Group/USA Parking Systems ~ Innerbelt Lofts/J & M Real Estate Advisors ~ Key Bank ~ University Commons Apartments/Paran Management
Silver Sponsors:
Applewood Centers ~ Blink Signs ~ City Architecture ~ Cuyahoga County Land Bank ~ Dollar Bank ~ Downtown Cleveland Alliance ~ Enterprise Community Partners ~ Heyhey Studio ~ Hotcards ~ Icon Interiors ~ Lake Affect Studio ~ Management Services Partners ~ Michael Baker International ~ The Millennia Companies ~ Newmark Grubb Knight Frank ~ Novogradac & Company ~ Bobbi Reichtell & Mark McDermott ~ Sisters of Charity Health System ~ Third Federal Savings ~ Thompson Hine ~ Trinity Cathedral ~ Wuliger & Wuliger Law
If you would like to pay for your ticket(s) by check and need an invoice, please contact dhasrouni@campusdistrict.org.
Photo of Julie Beers courtesy of Frank Lanza/Scene Magazine