Description
[NOV 28 UPDATE: All ticketed guests will receive 15% off all merchandise not named YETI in our tasting room. Also, we'll be serving Old Fashioneds made with local cocktail heroes 18.21 Bitters during the release!]
Join us for a bottle release of Atlanta's first rye since before Prohibition - which just so happens to be a delicious Atlanta single malt whiskey, too - on Saturday, December 3rd!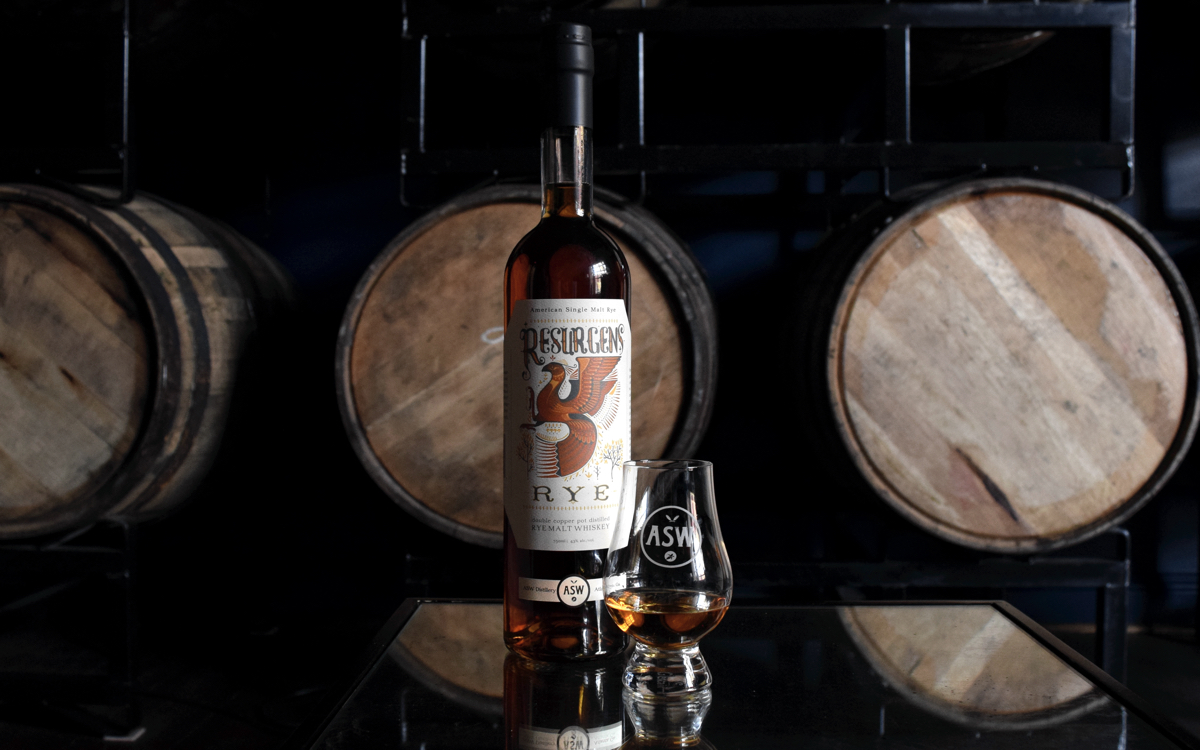 With an incredible label by local artist David Hale - who's been commissioned by the likes of The Avett Brothers and the City of Athens, GA - Resurgens Rye showcases the full potential of one of Georgia's native grains, rye.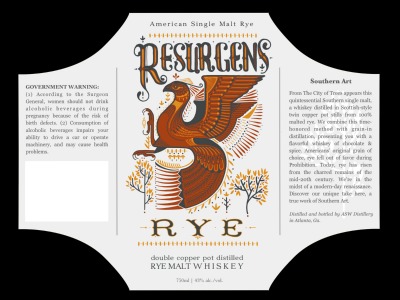 Of course, such a milestone in Atlanta history deserves a pairing with 2 of Atlanta's other well-known fixtures: Fox Bros BBQ and live music. So we'll have all 3 on full display from 2-5pm the first Saturday in December, with Fox Bros pulled pork sandwiches + chips, live folk music, and, of course, plenty of whiskey!
On the topic of whiskey (a most noble topic indeed), each ticket comes with three pours of our various whiskies, including Fiddler Bourbon and Resurgens Rye, an in-depth tour of the production area, including our Scottish-style twin copper pot stills, and a look at our rickhouse full of over 100 barrels aging a whole host of bourbons, brandies, and single malts that we've distilled and laid down to mature.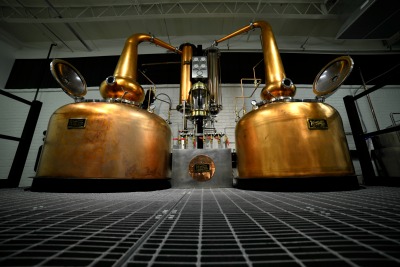 ABOUT RESURGENS RYE
Distilled and matured entirely at our 199 Armour Drive distillery, Resurgens Rye is made from 100% North American malted rye (including 10% chocolate malted rye), then matured in new white oak barrels. The malted rye lends chocolate, hazelnut, toasted marshmallow, and dried fruit, while the new barrel balances these notes with vanilla, caramel, and honey.
For this release, we've sampled multiple casks to find a harmony of fruit, sweet aromatics, and oak.
As Atlanta's first rye AND first single malt whiskey in one, Resurgens Rye makes a great gift. As 2017 rolls around, we'll begin entering Resurgens in awards competitions across the country, with our sights set on bringing gold home to Atlanta.
ALL TOUR TICKETS INCLUDE:
_Pulled pork sandwiches and Zapp's chips from Atlanta's own Fox Bros BBQ, for your dining pleasure

_Guided tasting of 3 pours of our whiskies, including our first bourbon, Fiddler, our first rye & single malt whiskey, Resurgens Rye, and a cocktail-of-the-day if you so choose

_Tour of the distillery
BOTTLE RELEASE TOUR* TICKETS INCLUDE:
_All of the above perks
_A limited release souvenir bottle of our first rye AND first single malt whiskey in one, Resurgens Rye, whose badass label was designed by one of Georgia's most celebrated contemporary artists, David Hale.
_A return pass providing you with a tasting tour that you may redeem in the future for 3 samples of our whiskey, guided tasting, and tour
*Limited to 1 bottle tour per person
ABOUT ASW DISTILLERY
As the City of Atlanta's newest distillery, across the street from SweetWater Brewery, we combine a traditional Scottish-style twin copper pot still system with Southern flavor innovation, including grain-in distillation. Here at ASW, we also focus on local agriculture, sourcing local corn from Riverview Farms in Ranger, Ga. and apple juice from orchards in North Georgia; harvesting white oak heartwood from Jackson County, Ga. to finish some of our whiskies; milling our smoked malts in-house; and providing our spent grain to Georgia farmers after we're done distilling.
Our head distiller, Justin Manglitz, previously owned downtown Athens' homebrew supply store. The craft booze he produced during his tenure in Athens earned him something akin to "living legend" status there. A handful of well-known craft brewers in Georgia even bought ingredients from Justin for a number of years. Much like craft breweries' innovative approach to brewing has earned Georgia national acclaim for its beers, Justin has us on a similar course at ASW, never shying away from experimenting with finishes in cider casks, sherry butts, brandy barrels, and even once-used mead casks!
As Atlanta's Hometown Whiskey Distillery, we're hoping to help put Atlanta on the map for craft distilling like all of our wonderful craft breweries have done for beer over the past decade.
We hope you'll join us for this very special whiskey release, a true milestone for Atlanta craft spirits.