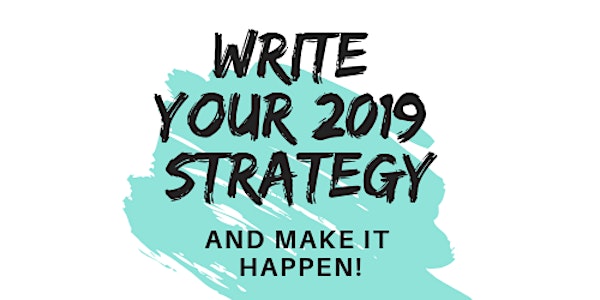 Strategy Event
By Marina Romashko, Big Idea Lab
When and where
Date and time
Tuesday, January 8, 2019 · 6 - 9pm EST
Location
WeWork 25 Broadway #9th Floor New York, NY 10004
Refund Policy
Refunds up to 7 days before event
Description
Big Idea Lab has spent the last 10 years helping individuals and companies turn big ideas into reality. One thing we know for sure:
THERE IS NO ONE PATH FOR EVERYONE TO SET GOALS AND ACHIEVE THEM.
In 2019, don't just set goals. Understand your motivation, uncover your limiting beliefs, explore how YOU get things done (not your best friend or another motivational guru.) Understand "you" and set goals based on who you are and what is most important to you.
THE WORKSHOP
The mission of the Strategy Event is to help participants create customized, personal roadmaps for 2019 based on their individual vision, priorities, and intentions for the year.
During the workshop we wil develop your:
VISION: High-level projections based on your most important priorities for 2019
ROADMAP: 3 Months of SMART goals based on your priorities
PRODUCTIVITY STYLE: your customized productivity style you can apply weekly
MONTHLY ACTION PLAN: Weekly plans to help you achieve your monthly goals
What's a Productivity Style?
Everyone has a way that they accomplish goals. At Big Idea Lab we call it productivity style. We all have different styles for HOW we get things done. WHEN we get things done, and WHY we get things done -- what makes us feel motivated. In this workshop we will explore the style that makes you the most productive you.
YOUR TAKE-AWAYS
- Clearly defined priorities and intentions
- A vision for 2019
- Your own productivity style, clearly defined
- A 3-month plan to achieve goals based on priorities
- Clarity, calm, excitement and satisfaction about how 2019 may look
During the 3-hour workshop we will include: group exercises, reflection, writing exercises, mediation and a celebration. Cake and Prosecco will be enjoyed at the end of the workshop!
REGISTER (Space is limited to 12 people.)
About the organizer
Marina Romashko is the founder of Big Idea Lab. She is a productivity expert, in short, she makes BIG IDEAS happen. Marina is best described as a doer who loves, through her own efforts, and work with her clients, bringing good things to fruition. Her approach in her work and with her clients is one that advocates leading a balanced life which can only come from slowing down and shifting one's focus when necessary. Find out more on BIL.nyc