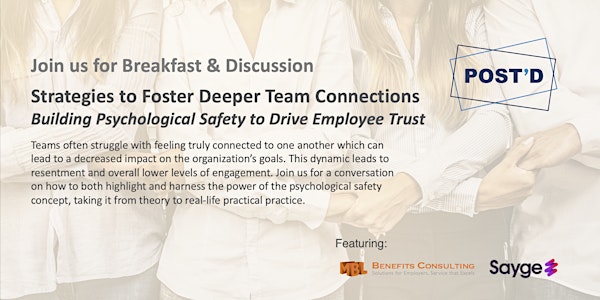 Strategies to Foster Deeper Team Connections
When and where
Location
389 5th Avenue Suite 300 (between 36th & 37th Street) New York, NY 10016
Description
Teams often struggle with feeling truly connected to one another which can lead to a collective decreased impact on the organization's goals. This dynamic leads to resentment and overall lower levels of engagement.
This is often due in part to one or more team members who want to "hold the room" or "be the boss" of the group even if they aren't. Ultimately, this weakens psychological safety.
Join today's most innovative companies for a conversation on how to both highlight and harness the power of the psychological safety concept, taking it from theory to real-life practical practice.
We'll talk through:
Defining psychological safety

Evaluating and building psychological safety

Tips for self-awareness (individual and team)

Examples of psychological safety theory through real-life practice
The discussion will be led by Katie Stricker, Co-founder & President, Sayge.
Event Schedule:
8:00 - 8:30 am - Breakfast & Networking
8:30 - 9:30 am - Presentation
9:30 - 10:00 am - Q&A / Networking
Space is limited.