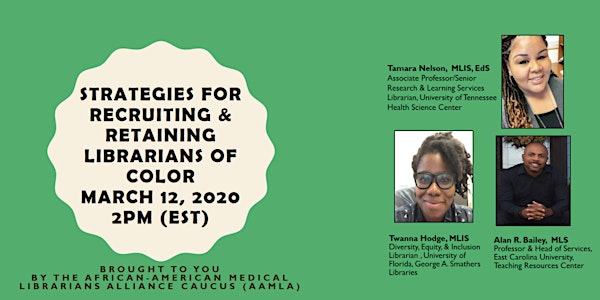 Strategies for Recruiting and Retaining Librarians of Color
Attend this webinar to learn strategies to recruit & retain librarians of color.
About this event
Recruiting and retaining underrepresented or minoritized librarians is a timely topic of interest for librarians. Twanna Hodge will discuss the recruitment process for library residencies and recruitment strategies for early career BIPOC librarians. Tamara Nelson will discuss intentional recruiting of diverse candidates using direct strategies to recruit librarians of color that goes beyond just only posting the position, including ways to be proactive. Alan R. Bailey will discuss practices academic libraries should follow to create a welcoming and inclusive workplace - a workplace that embraces diversity and fosters success for all librarians but specifically those from diverse populations.