Description
"Social selling is the practice of leveraging social networks and the associated tools in the overall sales function, from lead generation to closed deal to account management."
Sounds powerful, doesn't it? It is powerful. Extremely powerful.
So what's stopping you from being a superstar social salesperson?
You simply don't know how to use this magnificent tool!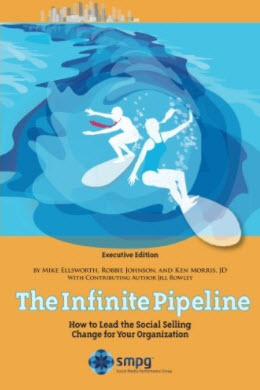 Charlene Burke, your instructor, is an acknowledged contributor to the 2011 edition of The Infinite Pipeline: How to Master Social Media for Business-to-Business Sales Success (pg 187). Can be found on Amazon.
4 Modules - 90-Minutes Each
1 pm - 2:30 pm ET
Tuesday, Sept. 12
Thursday, Sept. 14
Tuesday, Sept. 19
Thursday, Sept. 21
This Workshop is For:
Independent Sales Professionals, Network Marketers, Direct Sales Professionals, Solo Business Owners.
It is not focused on a specific business or product.
It is for individuals who want to grow their business using social media without annoying friends, family, and other professionals.

What We Will Do
Working in a group setting using video/web conferencing, there will be plenty of opportunities to get YOUR questions answered. Consider this a workshop where we all work together on the same goals:
Module 1: Create a Strategy
Create Customer/Connection Persona
Introduction to LinkedIn and Facebook
Set Up Your Profile for Success
Module 2: How To Search For and Connect With Prospects
What to Do - tools to help you
What to Say, How to Say It - helping you create messaging campaigns
Moving the Sale Forward
Module 3: Your Content, Your Activity Matters
LinkedIn - Be Attractive on the Platform
How to Shine Online So They're Attracted to You
Using Groups, Status Updates, Posts
Facebook: Groups, Posts, Content (Notes)
Content to Share - What, Where, How Much
How to Connect
Module 4: Organize The Effort
Manage Your Connections
Spreadsheet to Track Activity
You will:
Have Your Profiles Set Up for Success
Understand How to Use LinkedIn and Facebook for
Prospecting

Connecting

Building Relationships
Learn How to Promote Without Being Salesy - Content That Works to Showcase You as The Expert

Have a Plan of Action That Works FOR You!
Requirements
You must have a LinkedIn and Facebook profile set up and ready for review. Basic (free) membership is fine.

You will be expected to use a webcam, though video isn't required audio is.

You will leave with a solid plan that you can put to use that day and every day afterward.
FAQs
Is my registration/ticket transferrable?
Yes. If you want to give or sell your registration to another independent sales representative or professional you can do so. Please notify me of the name change and new email address via the contact link below.
What is the refund policy?
Refunds provided up to the evening before the event. If you are unable to attend and unable to cancel ahead of time, please email me and we can discuss other options for you. Email me at the contact link below.
Do you know what you're talking about?
Yes. I've built my business using LinkedIn and other social media platforms. I've been conducting workshops via webinar and in person, have trained professionals in classroom settings and have spoken at national conferences about social selling, using LinkedIn and using social media. Here are a few testimonials:
"I was recently invited to attend Charlene's seminar on using LinkedIn for Job Seekers at a local church and almost didn't go. After a number of years on the job search help scene, I thought that I had seen it all. However, this was different. Charlene covered not only where to click and what to write, but also why. She covered six LinkedIn topics showing new users how to get started and experienced users how to use LinkedIn to maximum advantage. If you want to save yourself a couple of weeks of research, trial and error and wheel-spinning, then take this seminar and do what she says."

Stan Siranovich
Principal
Crucial Connection LLC
----------------------------------------------------------------------------------------------------------------------------------------

"I hired Charlene to help me enhance my Linkedin site because I needed to increase my visibility and knew with her SEO and social media expertise, she was the one to get this done for me. She had great ideas on how to use keywords, perfect suggestions on putting just the right information into the description. The overall effect has increased my visibility from 80 connections to more than 280 connections. I have been getting a very positive response to my Linkedin site since she finished working with me and I am very, very pleased. I only wished I had hired her sooner to get this done. I now understand how to use LinkedIn as a business tool. I also took her Facebook seminar that showed me how to take Facebook to a new business level. She was easy to work with, had a great plan to follow, and her service was reasonably priced. I would highly recommend Charlene to anyone looking for a LinkedIn profile 'facelift'! And I would tell them to do this sooner rather than later. "

Katherin Autin
CEO Parkinson Partners, LLC