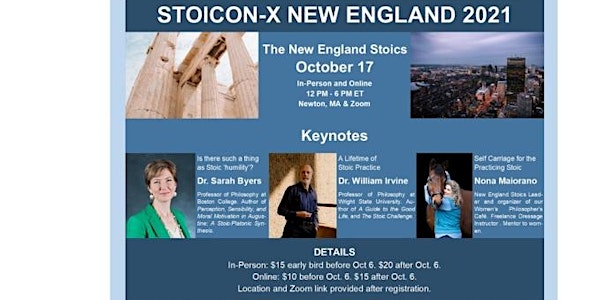 Stoicon X New England 2021 both in person at Newton MA USA & via Zoom
Come see keynote speaker William Irvine on "A Lifetime of Stoic Practice" Sunday Oct. 17, 2021 at Stoicon X New England!
Refund Policy
Contact the organizer to request a refund.
Eventbrite's fee is nonrefundable.
About this event
Stoicon X New England 2021 is the New England Stoics group's 4th annual regional conference. We are affiliated with the Modern Stoicism movement and are hosting this event to bring together those with a wide range of interest in the Philosophy called Stoicism. Whether you are new to this 2,300+ year old tradition or are a seasoned practitioner, we welcome you to join our conference to learn, grow, and share your experience and knowledge of this ancient, yet exceedingly relevant topic, which is as much an academic system as it is a practical, wise approach to everyday life.
Our Keynote Guests this year are: William Irvine, Sarah Byers, and Nona Maiorano.
Dr. William Irvine will speak on "A Lifetime of Stoic Practice." He is a Professor of Philosophy at Wright State University in Dayton, OH. He is the author of The Stoic Challenge, A Guide to the Good Life: The Ancient Art of Stoic Joy, On Desire, A Slap in the Face and other books. Two copies of Dr. Irvine's books will be given as door prizes: one for in-person and one for Zoom attendees.
Sarah Byers will speak on "Is There Such a Thing a Stoic 'Humility'? " She is a Professor of Philosophy at Boston College in Massachusetts, USA, and is the author of Perception, Sensibility, and Moral Motivation in Augustine, a Stoic-Platonic Synthesis.
Nona Maiorano will speak on "Self carriage for the Practicing Stoic." She is a New England Stoics Leader and organizer of our Women's Philosopher Cafe. She is a freelance Dressage instructor and mentor to women.
Our event includes readings, lectures, practice, mindfulness, and more!
The event will be on October 17, 2021 from 12 PM-6 PM ET. The conference will be in-person in Newton, MA and online. It will be broadcast via Zoom. There are a limited number of seats available in person at the venue in Newton, MA. Dr. Irvine's talk will be streaming to the in-person audience and out via Zoom.
Both the physical and online addresses will be sent to paid participants after registration.
In-person attendees are invited to a potluck dinner starting at 6 PM right after the event. If you can stay for dinner, we request that you bring a dish to share. Plates, cups, silverware will be provided. You are also invited to bring your favorite book(s) on Stoicism to informally discuss.
Modern Stoicism Ltd. is the owner of the Stoicon-X concept.