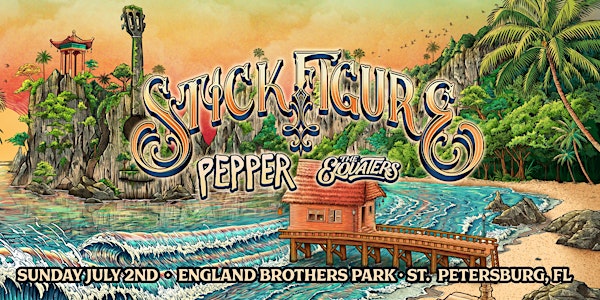 STICK FIGURE "Wisdom Tour" w/ PEPPER & THE ELOVATERS - St Pete
ALL AGES
Deuterman Productions and Reggae Rise Up
STICK FIGURE "Wisdom Tour" w/ PEPPER & THE ELOVATERS live in St. Pete
When and where
Date and time
Sunday, July 2 · 5 - 10pm EDT.
Location
England Brothers Park 5010 81st Ave N Pinellas Park, FL 33781
Performers
Headliners
More Performers
About this event
5 hours

ALL AGES

Mobile eTicket
Deuterman Productions & Reggae Rise Up Presents: STICK FIGURE "Wisdom Tour"
Support: Pepper & The Elovaters
STICK FIGURE With a distinctive sound developed through tireless attention to musicality and artistry, Stick Figure has redefined American reggae music with his latest album, Wisdom, released on September 9th, 2022. As with his previous releases, Wisdom was written, produced and recorded by Scott Woodruff, a self-taught musician, at Stick Figure-owned Great Stone Studios in Oakland, CA, former home of Green Day.
Wisdom is Stick Figure's seventh album and follows the unprecedented success of 2019's World on Fire, which peaked at number 34 on the Billboard Top 200, #6 overall Top albums, #1 Independent, and #1 Reggae album. World on Fire has sold over 300,000 copies including streaming equivalents, according to Nielsen soundscan data. Stick Figure's catalog has now sold well over one million copies and been streamed over three billion times. On the live side, Stick Figure averaged over 4,200 tickets sold per show on an almost entirely sold out 2022 tour, according to Pollstar, and is slated to play major multi-genre festivals in 2023 after headlining the top reggae festivals in 2022.
These numbers would be impressive by any metric, yet Stick Figure has achieved this rarified air completely independently, with no label or outside producers. Throughout the credits of Wisdom, Woodruff and a small cadre of collaborators, namely childhood friend TJ O'Neill, prove that manufactured music does not have to exclusively dominate the charts. Streaming alongside today's biggest pop stars, Stick Figure has transcended the genre while always embracing his love of reggae music. Much like other bands supported Stick Figure during his ascent, Woodruff works with up and coming artists to help foster a vibrancy that keeps the scene strong and growing faster than ever before, exposing it to new listeners with an authenticity that stays true to his roots, while pushing the boundaries of sound that people expect from the genre.
PEPPER Two decades. They've gone by in a blur, filled with sound checks, encores, album releases, and sold-out shows stretching from the California coastline to the UK mainland. Along the way, Pepper has sharpened its own "Kona dub-rock" sound — a blend of reggae, alternative rock, island rhythms, and punky spirit — while also building a community of fans and likeminded bands. That communal spirit runs throughout the band's eighth studio album, Local Motion. After sharing shows for years with their heroes and peers, Pepper's three members — vocalist/guitarist Kaleo Wassman, vocalist/bassist Bret Bollinger, and drummer Yesod Williams — are no longer merely artists; they're ambassadors of a scene, bringing people together under an umbrella of positive-minded music and collaboration. Appropriately, they share the spotlight with some of their longtime friends on Local Motion, whose songs feature appearances by Stick Figure, E.N Young, Micah Brown of Iration and Reel Big Fish's Billy Kottage. A celebration of artistic synergy, brotherhood, and modern reggae music, Local Motion is Pepper's most collaborative record to date, shining a light not only upon the three bandmates themselves, but also upon the wide community they've helped build. "We're part of a community of bands who have the same mindset," says Wassman. "They're our peers. They're our friends. We all exist on the same plane, and that's why we called this album Local Motion, because this is our local scene. It's where we fit in."
THE ELOVATERS The Elovaters formed in 2014 and have released two full length albums and an award-winning EP. Defy Gravity was the group's first big record in 2018 after signing to not-for-profit record label Rootfire Cooperative. Debuting at #1 on the Billboard Reggae chart and iTunes Reggae chart, Defy Gravity was produced by Danny Kalb and the single "Live By The Day" caught the attention of Jimmy Buffett's team who programmed it into regular rotation on SiriusXM's "Margaritaville" station. The band's success with SiriusXM has gone on to include the singles "Criminal" and "Fast & Slow" added to regular rotation on Kenny Chesney's station "No Shoes Radio"
Use the share tools on this event page to let your friends know where you will be. Please Print PDF ticket for entry into event or your phone email can work as well. No Refund Event. Rain or Shine Event.  No outside chairs or coolers are permitted blankets are welcome NO RE ENTRY w/ out VIP wristband
Frequently asked questions
No Outside Food or Drinks - No Coolers