Event Information
Refund Policy
Contact the organizer to request a refund.
Eventbrite's fee is nonrefundable.
Celebrate the launch of The Art of Impossible with Bestselling Author and Peak Performance Expert Steven Kotler!
About this Event
Learn about The Art of Impossible from bestselling author and peak performance expert Steven Kotler...
...as he decodes the secrets of those elite performers—athletes, artists, scientists, CEOs and more—who have changed our definition of the possible, teaching us how we too can stretch far beyond our capabilities, making impossible dreams much more attainable for all of us.
This free event is a partnership between Brookline Booksmith and Harper Wave, who will host this event on Crowdcast.
How to Register
Register on this page to receive a Crowdcast link
Register free or buy the book on this page to enter the event
If you don't receive a confirmation email after registering, contact us right away
Books purchased from this page will come with a bookplate signed by the author!
Get Your Books
Books are held for pickup or shipped after ticket sales have closed.
STORE PICKUP- Pick up your book in person at Brookline Booksmith (Click here for directions). You will receive an email alert when your book is ready.
SHIPPING - Have your book shipped via USPS priority mail. Shipping is only available in the United States.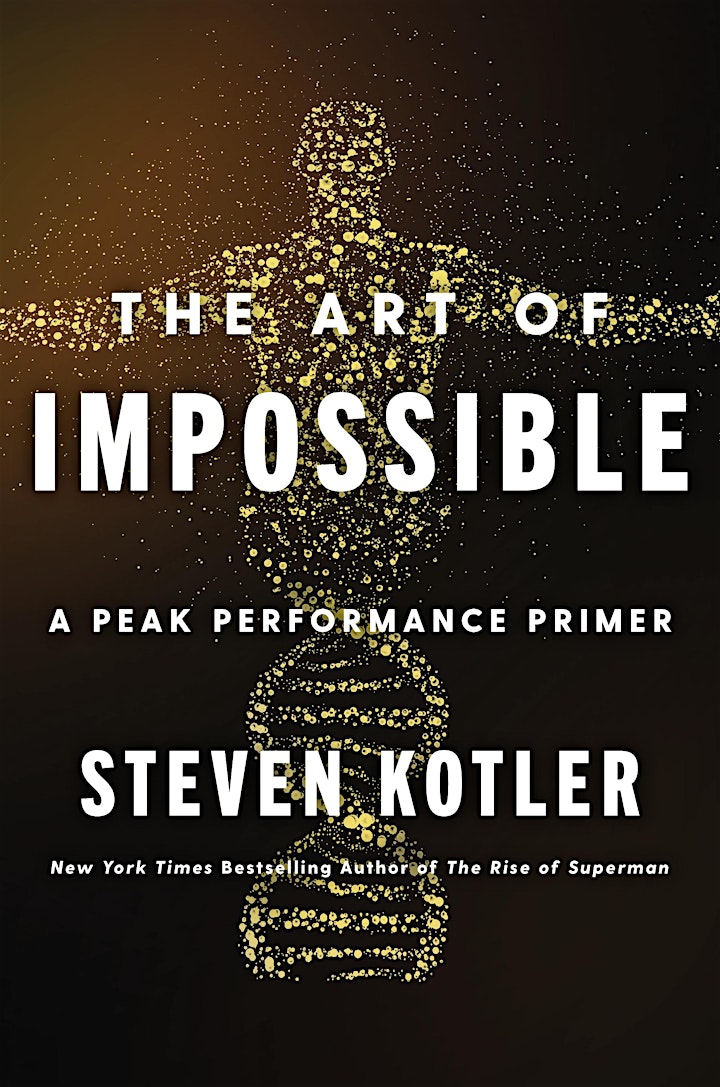 What does it take to accomplish the impossible? What does it take to shatter our limitations, exceed our expectations, and turn our biggest dreams into our most recent achievements?
We are capable of so much more than we know—that's the message at the core of The Art of Impossible. Building upon cutting-edge neuroscience and over twenty years of research, bestselling author, peak performance expert and Executive Director of the Flow Research Collective, Steven Kotler lays out a blueprint for extreme performance improvement. If you want to aim high, here is the playbook to make it happen!
Inspirational and aspirational, pragmatic and accessible, The Art of Impossible is a life-changing experience disguised as a how-to manual for peak performance that anyone can use to shoot for the stars . . . space-suit not included.
Steven Kotler is a New York Times-bestselling author, an award-winning journalist and the Executive Director of the Flow Research Collective. He is one of the world's leading experts on human performance. He is the author of nine bestsellers (out of thirteen books total), including The Art of Impossible, The Future is Faster Than You Think, Stealing Fire, The Rise of Superman, Bold and Abundance. His work has been nominated for two Pulitzer Prizes, translated into over 40 languages, and appeared in over 100 publications, including the New York Times Magazine, Wired, Atlantic Monthly, TIME and the Harvard Business Review. Steven is also the cohost of Flow Research Collective Radio, a top ten iTunes science podcast. Along with his wife, author Joy Nicholson, he is the cofounder of the Rancho de Chihuahua, a hospice and special needs dog sanctuary.
Moderator Scott Barry Kaufman, Ph.D., is a humanistic psychologist exploring the depths of human potential. He has taught courses on intelligence, creativity, and well-being at Columbia University, NYU, the University of Pennsylvania, and elsewhere. He hosts the #1 psychology podcast in the world— The Psychology Podcast— and is author and/or editor of 9 books, including Transcend: The New Science of Self-Actualization, Wired to Create: Unravelling the Mysteries of the Creative Mind (with Carolyn Gregoire), and Ungifted: Intelligence Redefined. In 2015, he was named one of "50 Groundbreaking Scientists who are changing the way we see the world" by Business Insider. Find out more at http://ScottBarryKaufman.com.
About Brookline Booksmith
Brookline Booksmith, est. 1961, is a family owned bookstore located in the heart of Brookline, Massachusetts. Through our thoughtful curation, eager and voracious booksellers, and award-winning events series, we strive to be a haven for those who find comfort, enrichment, and joy in books.
Our general event series is all about one thing: bringing people and the stories they value closer together. The series covers an eclectic blend of genres and topics for all ages, serving as a platform for seasoned authors, promising debuts, local launches, large scale national events, and all the places where they intersect. Find more at brooklinebooksmith.com!
Date and Time
Location
Refund Policy
Contact the organizer to request a refund.
Eventbrite's fee is nonrefundable.