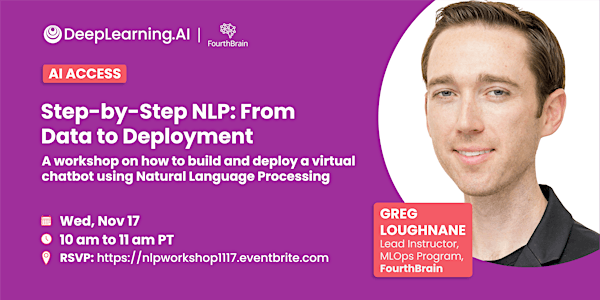 Step-by-Step Natural Language Processing Workshop: From Data to Deployment
Step-by-Step NLP: From Data to Deployment- A workshop on how to build and deploy a virtual chatbot using Natural Language Processing
About this event
Join us for a live, interactive workshop on how to build and deploy a virtual chatbot using Natural Language Processing (NLP).
The 1 hour hands-on session will be hosted by Greg Loughnane (PhD), Lead Instructor at FourthBrain's Live MLOps program. Greg will walk through both the business application and the stack of ML tools required to go from project scoping to cloud-based deployment. Attendees will learn how to replicate the end-to-end MLOps pipeline, including all necessary deployment code.
This workshop is perfect for anyone interested in learning more about how to build and deploy a chatbot or virtual assistant, two common business applications for NLP models today. This is also ideal for anyone just looking to learn more about MLOps and deployment.
Special announcement:
We are extremely excited to announce an up to $9,000 scholarship program with our event co-host FourthBrain, who offers live, instructor-led cohort programs focused on Machine Learning. Up to three (3) people will be selected to receive $3,000 off the tuition and anyone who registers for the event may be eligible to apply. To learn more details and apply, click here https://www.fourthbrain.ai/dl-scholarship. The application deadline is Nov 30, 2021.
Who should attend the event?
Learners interested in creating business value with NLP applications.
Learners interested in deploying ML models in development and production environments.
Learners interested in building NLP MLOps pipelines.
Why should you attend the event?
To learn how to build and deploy a virtual chatbot.
To understand a minimum viable deployment stack for ML.
To understand the evolving roles and responsibilities within ML teams.
About the instructor Greg Loughnane
Greg Loughnane is the lead instructor of the MLOps program at FourthBrain, where he teaches students how to deploy, scale, and monitor ML models in development and production environments. A former data science consultant, professor, and ML researcher, he currently leverages best practices from higher ed, product management, and ML to improve online courses and digital products.
How to attend the event:
If you register, you will receive a livestream link via an email 3 days before the event.
Can't attend the live YouTube event? Don't worry. Register now to get the recorded session after.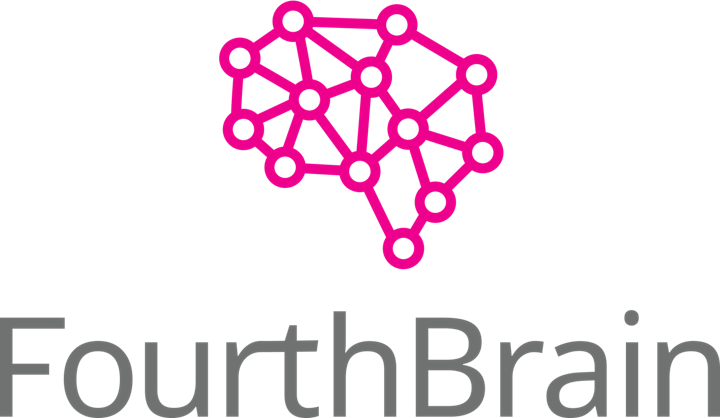 About FourthBrain
FourthBrain's mission is to bring more people into the growing fields of Machine Learning and Artificial Intelligence. We are increasing the talent pool and enabling more people to make an impact in this field with our flexible, accessible education programs that create pathways into ML and AI careers.
We offer 2 Programs:
1. MLOps Applications Program
Our 12 week program will help get you prepared with the MLOps tools, skills, and best practices for deploying, evaluating, monitoring and operating production ML systems.
2. Machine Learning Engineer Program
Our 16 week program will prepare you with the technical skills to be a machine learning engineer including web analytics, deep learning, computer vision and time-series analysis.
With FourthBrain's live, online, instructor-led programs in Machine Learning, you can join a career path that has been ranked as one of the best in the world. Our programs are designed with a flexible and practical curriculum, paired with hands-on projects that apply the concepts you've learned to make you career ready. FourthBrain is backed by the AI Fund, which was founded by Dr. Andrew Ng in 2017.