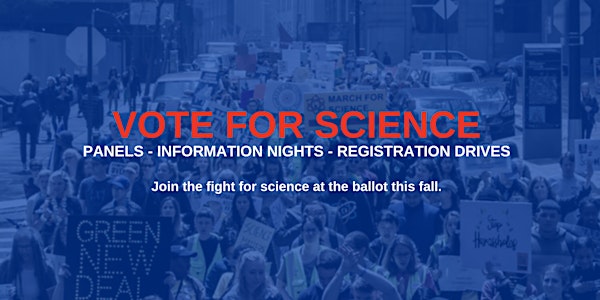 STEM the Vote: Science Policy Panel Series
A series of events to discuss evidence-based policies, hosted by March for Science NYC.
About this event
In the digital age, information is everywhere, and navigating the political process can be a daunting task. We hope to put science in the hands of voters: the Vote for Science initiative seeks to provide voters with up-to-date, peer-reviewed knowledge on key voting issues including climate, healthcare, and immigration.
We believe that science should belong to everyone. For this to happen, scientists must
promote the open access to scientific information
communicate findings in a way that is accessible to non-technical audiences
empower members of their community to use science as a tool during political participation
Science, however, does not live in a vacuum; to best serve society, we must take data to inform policies grounded in social justice. Our weekly panel series seeks to bridge the gap between science and activism; each panel will offer a non-partisan discussion on a different topic of interest going into the 2020 election featuring a science/policy expert on the issue being discussed and a NYC-based community organizer working in this field. Discussion will cover:
A brief history and state of policy for the issue being discussed that week
Metrics for analyzing proposed policies
Current gaps in policy, focusing on how implementation should address equity & justice
Community advocacy initiatives and concerns
Join us every Tuesday night from 7/7 to 8/25 for discussions with policy experts and community organizers.
07/07/2020: An Introduction to Science Policy
07/14/2020: Healthcare Policy
07/21/2020: Immigration Policy
07/28/2020: Food Policy
08/04/2020: Economic Policy
08/11/2020: Environmental Policy
08/18/2020: Gun Policy
08/25/2020: Education Policy
Supported by the Science Rising Challenge Fund.