Stefan Kröpelin at The Interval: From Deep Space into the Deep Sahara

Monday, December 14, 2015 from 6:30 PM to 8:30 PM (PST)
Event Details
The Long Now Foundation welcomes
Stefan Kröpelin
climate scientist, geologist, Saharan explorer

"Rosetta - Tibesti - Ennedi - Erdi:
From Deep Space into the Deep Sahara"
@ The Interval at Long Now: check-in begins at 6:30; talk will start at 7:30 
Join us afterwards for drinks and conversation with our speaker

In the year 02015 as our scientific knowledge extends to the stars and the surface of a comet 300 million miles from Earth, we have yet to tap all the mysteries of our own planet. In the Sahara, the Earth's largest hot desert, the Mars-like terrain holds many secrets. The deepest crater of Emi Koussi, the tallest mountain in the volcanic Tibesti range, has yet to be probed by geologists. The Ennedi plateau, "Garden of Eden of the Sahara" and a UNESCO natural and cultural World Heritage site, has only been studied at its periphery.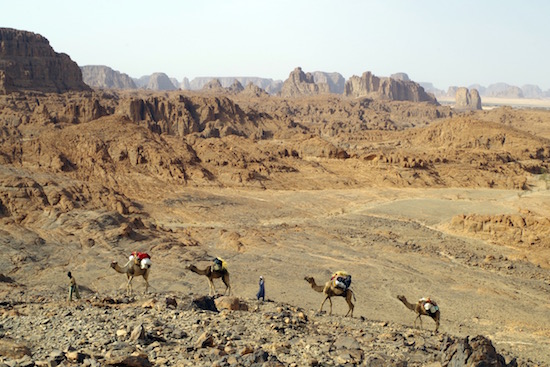 Photo by Stefan Kröpelin

In the last talk of 02015 at The Interval, we welcome Stefan Kröpelin whose life's work is to reach such places and ask questions about their ancient past. He will bring stories and pictures from his latest expedition, just two months ago, into the profoundly mysterious and informative Saharan terrain.

Scientist and explorer Stefan Kröpelin has recently returned from his latest expedition to the Eastern Sahara where his research focuses on past environmental and climate change in present-day desert regions. His palaeoclimatic and geoarchaeological field research in the Sahara helps to reveal the often humid history of now arid places, searching for the hidden histories of paleolakes.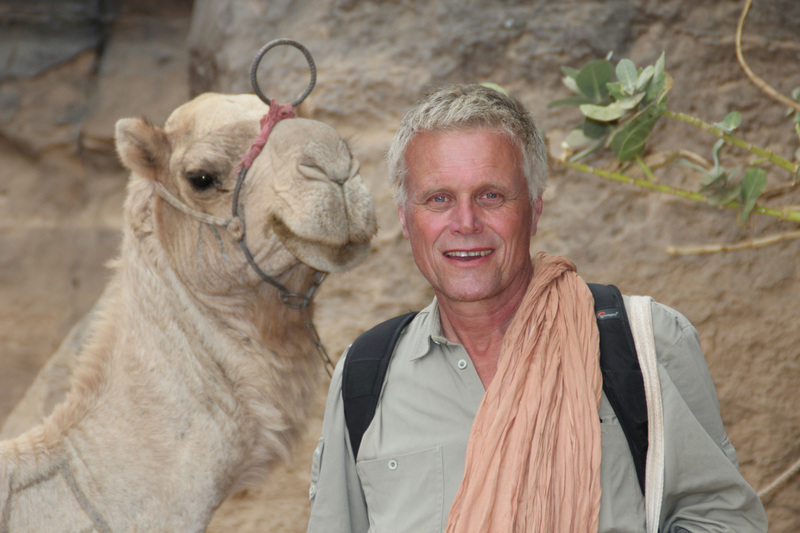 Stefan Kröpelin photo by Adam Polczyk / University of Cologne

"A dazzling speaker with hair-raising stories, great images,
and a compelling tale about climate change and civilization."
— Stewart Brand (Long Now co-founder)

While conducting vital climate science, Kröpelin has the opportunity to visit some of the most spectacular and least known desert sites on Earth. His talks include stunning images and harrowing stories from his journeys: firsthand reports from places where few have ever traveled. At least not for a very long time.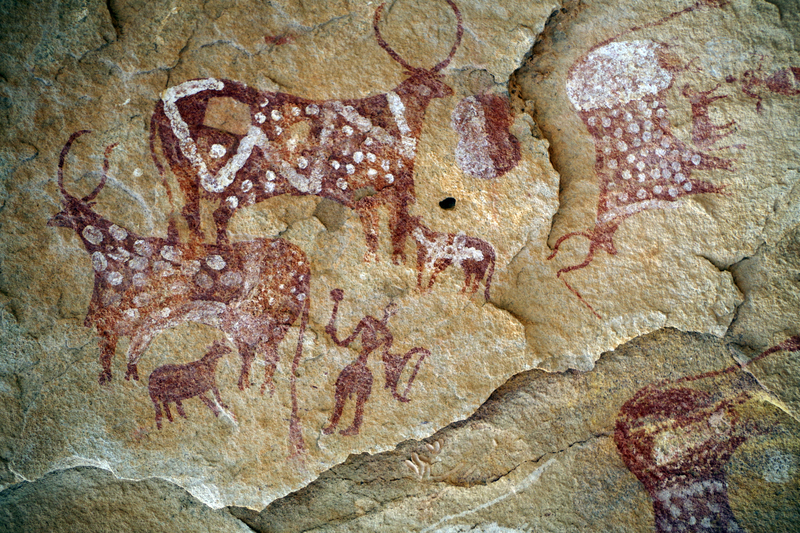 Photo by Stefan Kröpelin

On his recent trip the team found holocene pottery, Middle Stone Age lithic artifacts, and some of the earliest petroglyphs ever discovered; these and the broader study of Sahara's deep climate history help us better understand the challenges of the present day. At the Interval on December 14, Stefan Kröpelin will share what he has found and let us know what mysteries remain.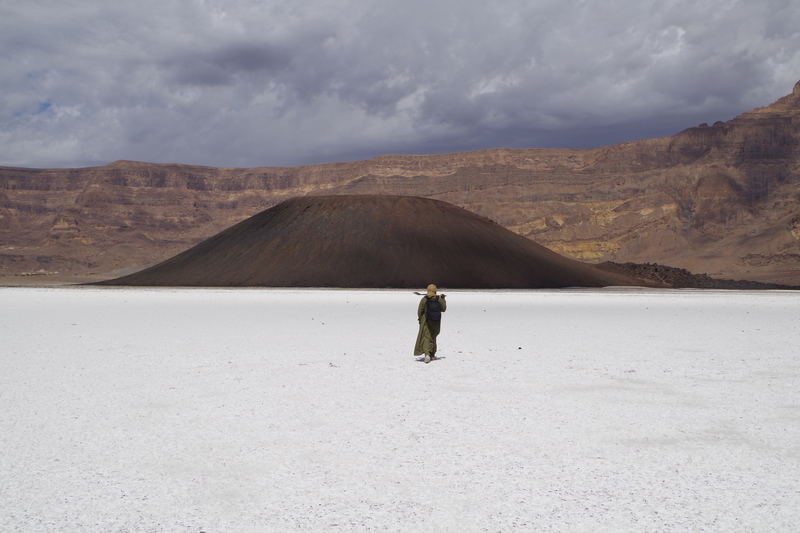 Photo by Stefan Kröpelin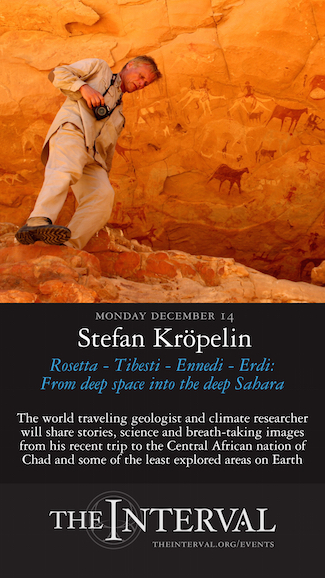 Stefan Kröpelin is a geologist and climate researcher at the University of Cologne. He studies the past environmental and climate change in present-day desert regions (esp. Eastern Sahara).

He serves as Principal Investigator of project A2 Late Quaternary High-Resolution Climate Archives in the Sahara within the Collaborative Research Centre 806 at the University of Cologne and conducts annual field research in the Sahara (Chad, Sudan, Western Sahara, Libya). He has made dozens of expeditions to the region over the last 40 years.

Dr. Kröpelin's other research includes geoarchaeology, palaeomonsoon variations and nature conservation in Africa. He spoke in Long Now's Seminars About Long-term Thinking series in 02014.

[Kröpelin] has made seminal discoveries about the climatic history of the Sahara that are challenging assumptions about the tipping points the world may face in a warmer future.
At the same time, Kröpelin has worked to document the Sahara's cultural history and to preserve its heritage by lobbying to protect important scientific and cultural sites.
— Nature
Join us to hear about Sahara's deepest secrets from a world renowned explorer and scientist.


Photos by Adam Polczyk / University of Cologne unless otherwise noted
Long Now members hear about Interval events first: become a member today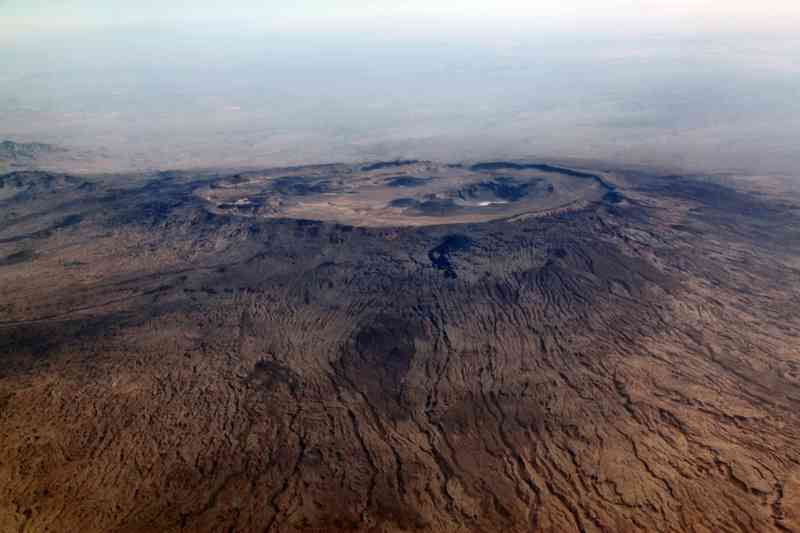 Photo by Stefan Kröpelin

When & Where

The Interval at Long Now
Fort Mason Center
2 Marina Blvd
San Francisco, CA 94123


Monday, December 14, 2015 from 6:30 PM to 8:30 PM (PST)
Add to my calendar
Organizer
The Interval at Long Now is a bar, cafe and venue for talks and other gatherings located in historic Fort Mason Center on San Francisco's north shore within site of the Golden Gate Bridge and Alcatraz. The Interval serves delicious beverages in a room full of mechanical wonders and thousands of books.
We are open daily from 10AM to midnight. Events are typically on Tuesday nights a few times a month. Tickets usually go on sale 2 weeks prior to the event. Our talks tend to sell out quickly due to our limited capacity.
Long Now members can purchase tickets before the general public.
The Interval is home to The Long Now Foundation which is dedicated to long-term thinking through projects including building a 10,000-year Clock, the monthly Seminars About Long-term Thinking (SALT), The Rosetta Project, PanLex, and Revive & Restore.