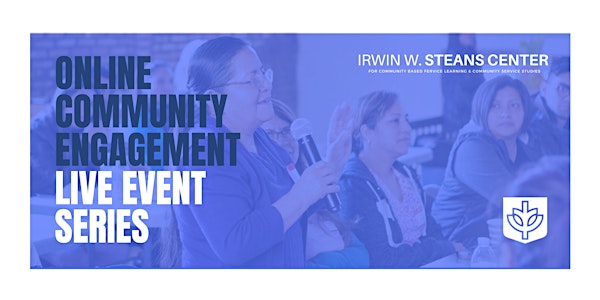 Steans Center OCE Live Events - Spring '21
Join community residents, activists, organizers and workers for a social justice series of dialogues and workshops.
About this event
Welcome to the Steans Center's Online Community Engagement (OCE) Live Events! A series of discussions, presentations and workshops led by our Community Partners, Faculty and Students to explore social justice issues in an era of global pandemic and civic uprising.
4/16 - COVID-19: The Effort behind Vaccinating our City with Dr. Arturo Carrillo from the Brighton Park Neighborhood Council and Dr. Michelle Neuman from DePaul's School of Nursing.
4/23 - Podcasts for Change - We'll be joined by hosts and producers from the Chicago Women's Health Center's A Mirror and a Flashlight podcast, Fat Outta Hell podcast and Change Agents podcasts.
4/30 - LGBTQIA+ Allyship - Join to learn more about how to be an LGBTQIA+ Ally or for a refresher on definitions, history of the movement and policy advocacy.
5/7 - Mental Health in 2021 - Please join Linda Yanez, Therapist at Community Counseling Centers of Chicago (C4), Joshie Tikka, Therapist at Fig Tree and Crisis Intervention Specialist at Lines for Life, and Sara Heidbreder, Sexual/Relationship Violence Prevention Specialist at DePaul's Office of Health Promotion & Wellness, for a dialogue on how the pandemic has impacted our collective/individual mental health and what we should be focusing on as we begin to re-open.
5/14 - Fighting for Environmental Justice: Chicago's Southeast Side - Join youth from George Washington High School's Student Voice Committee for a presentation and reflection on their actions to address how Environmental Racism in Chicago Will be Made Worse by General Iron Facility.
5/21 - Prison Abolition: Justice for Keith LaMar, Death Row Inmate - This event will be co-sponsored with DePaul University's Students Against Incarceration group and the Department of Political Science. Moderated by SAI student members, we will share the story of Keith LaMar and learn how attendees could support in his fight for a just retrial. Who is Keith LaMar? Keith LaMar is a death row prisoner who was wrongfully convicted in the State of Ohio. On November 16, 2023, the State intends to execute him, even though he has maintained his innocence for nearly three decades, all while being held in indefinite solitary confinement.
Please note: each event will be recorded for future viewing but joining live will provide you the optimal experience.