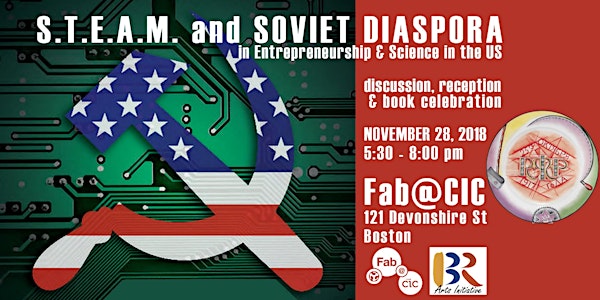 S.T.E.A.M. and Soviet Diaspora in US Science and Entrepreneurship - panel discussion, reception and book celebration
When and where
Location
Fab@CIC 121 Devonshire Street Boston, MA 02109
Description
Join us for a panel discussion exploring the contributions of technology professionals from the former Soviet Union in the US innovation economy, and the role of the arts and creative culture in inspiring their scientific and entrepreneurial achievements.
5:30 Registration, networking.
6:00 Speaker intros, Panel Discussion
7:00 Q&A
7:15 Reception
This event is presented in connection with the publication of the book Hammer and Silicon: The Soviet Diaspora in the US Innovation Economy - Immigration, Innovation, Institutions, Imprinting, and Identity (Cambridge University Press, 2018), which features interviews with three of the panelists, and is co-authored by the fourth. Boris Perlovsky, Director at CIC, will moderate the discussion and Q&A. Hammer and Silicon coauthors Sheila Puffer and Daniel McCarthy will also be in attendance.
Speaker bios:
DAVID GAMARNIK is a mathematician and actor based in Boston. Hailing from Tbilisi, Georgia, he is a professor of operations research at MIT by day and in the past worked for IBM. He has trained as an actor and is a member of Boston's Arlekin Theater, where he has participated in numerous productions, most notably in the lead role of the critically acclaimed staging of A Dead Man's Diary.
DANIEL SATINSKY, co-author of Hammer and Silicon, is an American technology executive based in Boston. For more than 20 years, Satinsky has been engaged in technology-related Russian business projects, market entry for both Russian and U.S. companies, thought leadership on Russian-American economic issues, and building practical business networks. He has participated personally in three startups and advised established companies.
VLADIMIR TORCHILIN is a leading biochemist and pharmacologist as well as art collector and author of numerous books of creative fiction, non-fiction and poetry. Born in Moscow, he began his career in the Soviet Union, receiving the Lenin Prize in Science and Technology (the highest prize in the USSR) before emigrating to the US. He is a professor at Northeastern University, where he directs the Center for Pharmaceutical Biotechnology and Nanomedicine. He and his wife have an extensive art collection focused primarily on the works of artists from the Russian empire and Soviet Union.
ANNA WINESTEIN is an art historian and arts entrepreneur based in Boston, who also happens to be a reformed economist. Born in St. Petersburg, Russia in a science and technology family that also had a multi-generational art collection, she grew up in Brookline, MA. She is the Founding Executive Director of Ballets Russes Arts Initiative, and has published widely on art and culture of the Russian and Soviet empires. She has curated numerous international exhibitions and is a member of the FabLab at CIC Boston.
BORIS PERLOVSKY is a driver of entrepreneurial business, technology, arts, and the greater community. Originally from Novosibirsk, Russia, he grew up with influence from across Russian and American capital centers. He is a Director at CIC, and as one of it's first employees built its original core technology systems, driven it's role in engaging the greater arts community, co-lead the opening of CIC Boston, and spearheaded innovative projects such as CIC's FabLab and partnership with MassRobotics.
The event is organized by CIC Boston and Fab@CIC together with Ballets Russes Arts Initiative. Relativity Whisky is a proud sponsor.