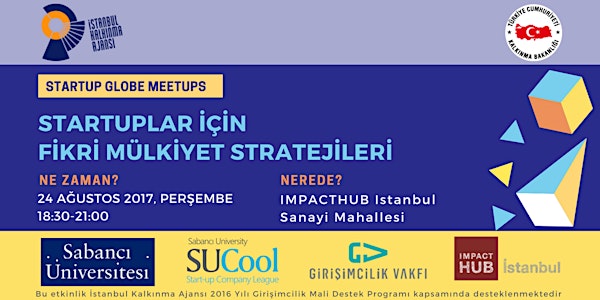 Startup'lar İçin Fikri Mülkiyet Stratejileri
When and where
Location
Impact Hub Istanbul Kağıthane, İstanbul 34418 Turkey
Description
(Please scroll down for English)
---
Sabancı Üniversitesi SUCOOL olarak düzenli hale getirdiğimiz STARTUP GLOBE MEETUP etkinliklerinin dokuzuncusunu 24 Ağustos'da gerçekleştireceğiz.
Bu kez, özellikle yazılım ve bilişim sektöründe faaliyet gösteren girişimcilerin iş fikirlerini ve geliştirdikleri / geliştirmekte oldukları teknolojileri koruyabilmek adına atmaları gereken adımları, patent ve marka tescil işlemleri ile bunlara ilişkin hukuki süreçleri ele alacağız.
Panelistler:

- Mustafa ÇAKIR (Patent Vekili, Sabancı Üniversitesi)
- Erdem KAYA (Yönetim Kurulu Başkanı, Erdem Kaya Patent ve Danışmanlık A.Ş)
- Av. Levent YARALI (Kurucu Ortak, Gökçe-Yaralı Hukuk Bürosu)

Moderator:
- Naci KAHRAMAN (Associate, SUCool Girişim Hızlandırma Merkezi)
ile birlikte
* iş fikri çalınır mı? kim nasıl çalabilir? çalınırsa ne yapmalı? iş fikri nasıl korunabilir?
* yazılım ve/veya yazılım bileşenleri patentlenebilir mi? ne zaman ve nasıl patent başvuru yapmalı?
* patent verilerinden neler öğrenilebilir? ürün geliştirme süreçlerinde nasıl kullanılır?
* ortaklar arasındaki protokollerde fikri mülkiyet haklarının korunması için ne yapmalı?
* freelancer hizmet verenlerle yapılan iş anlaşmalarında fikri mülkiyet hakları nasıl korunur?
* patent tescili yapılan iş fikri / teknolojiler nasıl ticarileştirilir?
* başkasına ait patentli teknoloji hangi şartlarda kullanılabilir? kendi patentimizi başkasına nasıl lisanslarız?
sorularına yanıt bulmaya çalışacağız.
Bu etkinlik İstanbul Kalkınma Ajansı desteğiyle gerçekleştirilmektedir.
---
As Sabancı University SUCOOL, we will be held the 9th event of STARTUP GLOBE MEETUP in 24 August.
We will be talking about "what are the Intellectual property strategies for entrepreneurs and startups who are working in software and IT sector and want to protect their business ideas and technologies they are working on" with
Our mentors;
- Mustafa ÇAKIR (Patent Attorney, Sabancı University)
- Erdem KAYA (Chairman of Board, Erdem Kaya Patent ve Danışmanlık A.Ş)
- Av. Levent YARALI (Founding Partner, Gökçe-Yaralı Law Office)
Moderator:
- Naci KAHRAMAN (SUCool Startup Acceleration Center)

and will find answers this questions:
* Might the business idea be stolen? How can I protect?
* Is it possible to protect my software with a patent? When and how does the patent application should do?
* What do you need to do protect the intellectual properties for protocols which regulated between founders?
* How do the intellectual properties protect when work with freelancers?
* What are the other commercialization strategies (such as licensing) for your patent?
* İn what circumstances can you use patented technology which belongs to someone? How can you licence your patent to someone?
This event is run by Istanbul Development Agency supported Startup Globe project.