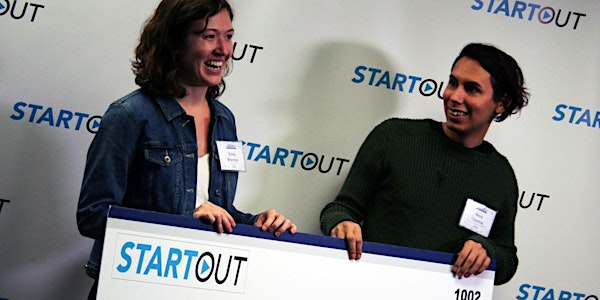 Startup Weekend HackOut - June 23-25, 2017 - Austin, TX
When and where
Location
HomeAway 11800 Domain Boulevard #300 Austin, TX 78758
Description
Be a part of the first-ever LGBTQA-themed Startup Weekend!
Startup Weekend HackOut is the first-ever LGBTQA-themed Startup Weekend!

The purpose of this event is to inspire potential entrepreneurs in the LGBTQA community to learn the ropes of validating an idea for a startup or lifestyle business and turn that idea into a business venture.

In just 54 hours, you will experience the highs, lows, fun, and pressure that make up life at a startup. As you learn how to create a real company, you'll meet the very best mentors, investors, co-founders, and sponsors who are ready to help you get started.

Startup Weekend HackOut is being organized in partnership with Techstars, which helps entrepreneurs raise startup funding and gain critical insight to help launch their businesses, StartOut, the national nonprofit supporting LGBTQIA entrepreneurs, and Lesbians Who Tech, a global community of 25,000+ queer women and gender nonconforming people in tech (and our allies) in over 37 cities around the world.

Your community is here to help you. Regardless of your professional background — sign up now for Startup Weekend HackOut in Austin, TX!
Still curious? Learn even more here: http://www.swhackout.org/
Judges:
Mentors (partial list):
Zack Agar | Paniolo Ventures, Entrepreneur and Investor

Ryan Joy | Evangelist, Microsoft

Taylor McCaslin | Product Manager, WPEngine

Patrick McGarry | Head of Community, data.world

Hayley Netherton | Pitch Workshop

Rena Pacheco | Theard | Founder & CEO, Prepify

Kimberly Wilkins | Principle Engineer & Lead DBA, Rackspace (Object Rocket)
Sponsors:
Homeaway | Chariot | Uber | Atlassian | Big Commerce | KellerWilliams | Capital Factory | Erin Rose Creative | Sticker Giant | Diversity.fund
Food Sponsors:
Stubb's BBQ | Mama Fu | Via313 | Pelons Tex-Mex | Primizie | Slab BBQ | Sway Water | Lick | ZulaFood | Pok-e-Jo's | Jugo Fresh Juice | MATI Energy