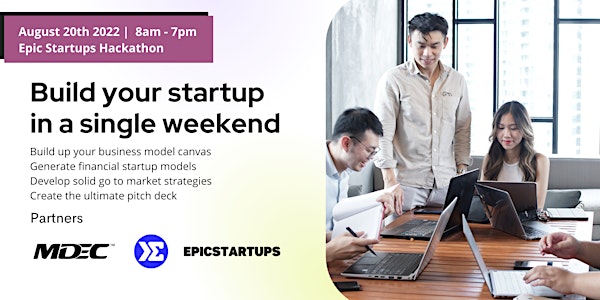 Startup Hackdays: Build your startup in a single weekend
The startup hackathon where we build startups in a single weekend. Go from ideation, to building financial models to pitching to investors
When and where
Location
ASEAN Data Analytics eXchange (ADAX) Level 27, Tower B, Vertical Business Suites Avenue 3, Bangsar South Kuala Lumpur, Kuala Lumpur 59200 Malaysia
About this event
Overview
The startup hackathon where we build startups in a single weekend. Go from ideation, to building financial models to pitching to investors. A full workshop guided event where we provide all participants with the tools and templates needed to build an Epic Startup that's fund ready.
How to build a well planned startup
1. Develop the business idea well with Business Model Canvas
2. Create your go to market strategies
3. Build your Financial Model
4. Develop the pitch deck
5. Get feedback, ideas and inspiration from diverse individuals from all backgrounds to further refine the idea
The Outcome
A fine tuned startup pitch where you create your startup plan within a single day. Develop your core strategy, business model and cash flow projections all ready to pitch to other startup founders who will test your ideas and grill it to the max. Be prepared.
PS: We film all your pitches so you will get to take back your pitch video to show other angel investors.
Why Startup Hackdays
We need more innovation and big bold ideas. These can only come from dynamic individuals coming together to brainstorm, and crank out ideas. Together, with the power of groups, we can generate amazing new ideas that can truly create innovation.
Who is this event for
Aspiring entrepreneurs and dynamic individuals committed build the next big thing. They should not be afraid to think outside the box and speak out. They should be active participants in the events. Be willing to network, brainstorm ideas and give their best.
Agenda
8am - 830apm: Networking and Registration
830am - 9am: Speech by founders and sponsors
9am - 11am: Business Model Canvas Development
11am - 1pm: Go to market strategy Development
1pm - 2pm: Lunch
2pm - 4pm: Financial Model Creation
4pm - 5pm: Pitch Deck Creation
5pm - 630pm: Pitching Sessions
630pm - 7pm: Closing speech by sponsors and event organisers
Mentors for the event
Ming: CTO & Co-Founder of Epic Startups. He's a techie passionate about building startups and the startup ecosystem in Malaysia, and ultimately the region.
Deric: Co-Founder of Sigma School. Deric is focused on bringing tech education to the masses and disrupting the way education is done online through peer to peer self-learning
Christopher: Co-Founder Aviantech. Chris is committed to building workflows and process automation to all SME businesses. He believe in the future where true productivity and growth comes from companies firstly having full transparency and control over their processes
Jack: Co-Founder Menubase. A true FnB guy who is keen on bringing analytics and digitization to all FnB outlets in Malaysia. He's a proud bar owner himself and wants to see a transformation of the FnB space.
David: Founder of sevenKL. He's one of the top sneaker heads in the country and maintains a community of close to 100K members of sneaker lovers online. David is passionate about shoes and rare collectibles.
FAQ
1. Do I need an existing idea to join this event?
No you don't need an existing idea. You can work with any of the existing ideas out there or team up with others
2. Is this event free?
Yes this event is free
3. Will I get funding in this event?
There's no guarantees. Think of this event more like a place to build your startup idea and craft your pitch.
PS: Join our discord to keep in touch with us and network with all other startup founders out there
https://discord.gg/UB7xEefk