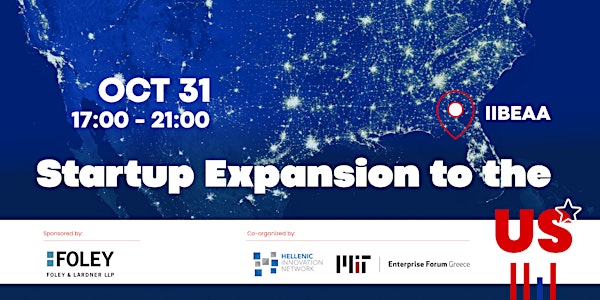 Startup Expansion to the US
Your startup may be doing great, but Greece is a small market. At some point, you will want to consider expansion to the United States.
When and where
Location
Iibeaa 4 Soranou Ephessiou Street 115 27 Athina Greece
About this event
Meet with lawyers from top-tier US-based law firm Foley & Lardner who will discuss the process of raising capital and expanding your operations in the US, and guide you through some of the relevant considerations.
Agenda
16:30 - 17:00: Arrival
17:00 - 19:00: General Session
How to structure your company in order to raise funds and expand your business into the US markets
Raising capital in the US – typical financing offerings
Intellectual Property Considerations – how to protect your IP and Investor / Buyer expectations
Plan Early for Future Transactions with US buyers –key steps companies should take beginning on day 1 that will make future financings and the ultimately liquidity event a much smoother process
19:00 - 19:45: Breakout Sessions
Breakout Session A: a roundtable discussion on current legal issues for software / technology companies
Breakout Session B: a roundtable discussion on current legal issues for life science and health analytic companies
19:45 - 21:00: Networking Reception
See the Keynoter Speakers here