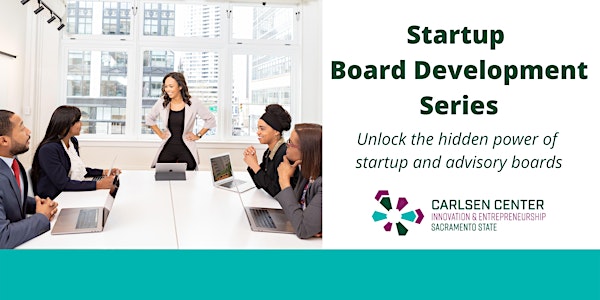 Multiple dates
Startup Board Development Series
Join us in learning how to unlock the hidden power of startup and advisory boards
By Carlsen Center for Innovation and Entrepreneurship
Date and time
March 6 · 1pm - April 3 · 2pm PST
About this event
The Carlsen Center for Innovation & Entrepreneurship is excited to bring to you the Startup Board Development Series which will enable you as a founder to unlock the hidden power of startup and advisory boards. This three-part series will be led by Kim Box, Independent Board Director and Advisor as well as Carlsen Center Advisory Board Member.
In this workshop series, we will cover two core components of boards at various startup stages and board mechanics. The aim is for you to walk away with a greater understanding of how to build, work with, and leverage a board at all stages of your entrepreneurial journey.
Workshop 1 – Board Overview (March 6th)
The overview will take into consideration different stages of the company:
Seed
Growth
Series A+
Acquisition or IPO
Explore the role of a board or advisory board
Support you in identifying who should be on your board
The blocking and tackling of setting up a board
Workshop 2 – Board Mechanics (March 20th)
The focus will be on all aspects of running the board:
Calendar – cadence of board meetings
Who attends beyond the board members
Agenda
Board Packet
How to effectively communicate and engage a board
An effective strategy for structuring your board or advisory board
Workshop 3 – Panel with Board Members and Founders (April 3rd)
We will bring in a panel of board members and founders to share their real-world experience in building and serving on advisory and startup boards.
Panelists:
Cheryl Beninga - Managing Director of Wai Mohala Ventures and Co-Founder of FourthWave
Lokesh Sikaria - Founder and Managing Partner of Moneta Ventures
About Kim Box:
Kim Box is an Independent Director on the Board of American River Bank (NASDAQ:AMRB) and is Chair of the Finance & Capital Committee and a member of the Audit Committee. Kim is an Independent Director on the McGrath Rentcorp (NASDAQ:MGRC) Board of Directors where she is the Chair of the Nomination/Governance Committee and a member of the Compensation Committee. Kim has significant board and executive leadership experience across multiple disciplines including information technology, strategic leadership, transformation/consolidation, global operations, outsourced services and technology support. She is an expert in global digital transformation and workforce transformation.
Former CEO and President at Gatekeeper Innovation, Inc. a healthcare company that creates products to keep medications safe. During her tenure as CEO she grew revenue by 500% and brought new products to market while establishing abuse deterrent packaging as an imperative for prescription medication safe keeping.
Kim is a former HP Vice President where she led a $1B global organization across over 100 locations around the world. She led large scale digital and workforce transformation resulting in reduction in operating cost along with increases in client satisfaction. She is known for her strong skills in strategic decision making, Information Technology, partner/relationship building, results driven leadership, high integrity and leading transformation with proven successful execution.
She is an international speaker and author on leadership, diversity and transformation. She is on the Board of National Association of Corporate Directors - NorCal chapter where she is Chair of the Board.
Note: If any special accommodations are needed please let us know at least two weeks in advance to secure the needed accommodations.