Join us for a lovely Syrian breakfast full of small plates of handmade cheeses, dips, and flatbreads, with of course, great conversations.
About this Event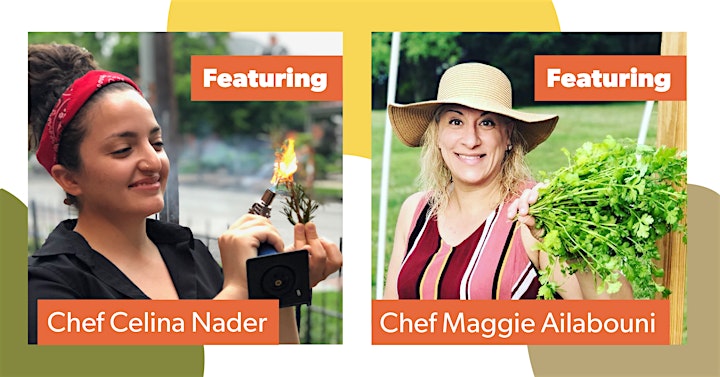 We're back Columbus! Our February event will be featuring local chefs, Celina Nader, also known as The Insatiable Chef and Maggie Ailabouni, chef and owner at Mazah Eatery in Grandview! They're teaming up to prepare a beloved meal in Syria— breakfast. Breakfast in Syria is one of the loveliest and longest meals experienced by family members and friends. It's a communal affair full of small plates of handmade cheeses, dips, flatbreads, spices and oils, fresh vegetables and fruit preserves.
Through our Spice Up events, we gather as a community to engage in conversations around cultural narratives. We won't shy away from hearing about the challenges of being an immigrant in the U.S., but we'll also come together to celebrate the beauty of cultural diversity. We do all of this while enjoying delicious food prepared by our guest chefs!
Join us on February 16th as we enjoy a spectacular Syrian breakfast prepared by Mazah chef and owner, Maggie Ailabouni, and The Insatiable Chef, Celina Nader. We're looking forward to the conversations we'll have about immigrant experiences from the perspectives of our chefs who represent Syrian and Lebanese backgrounds. Hope to see you there!
About Spice Up
Spice Up is a social enterprise based in Columbus started by a group of diverse individuals who have been influenced by their immigrant upbringing. We started Spice Up in April 2019 out of a local social impact hackathon, GiveBackHack, because we wanted to increase cultural awareness in the city by connecting people over food and stories. We organize local culinary events where we spotlight chefs impacted by the immigrant experience to share their stories.
Parking
Free street parking is available on nearby streets.
--
Seating is limited to 40 guests as we want to maintain an intimate event setting for optimal sharing and storytelling. Book your ticket now and be excited to learn, dine and grow together as a diverse and welcoming Columbus community!
--
Connect with Spice Up on Facebook and Instagram!
Reach out to us at: spiceupeats@gmail.com
#spiceupeats #stayspicy