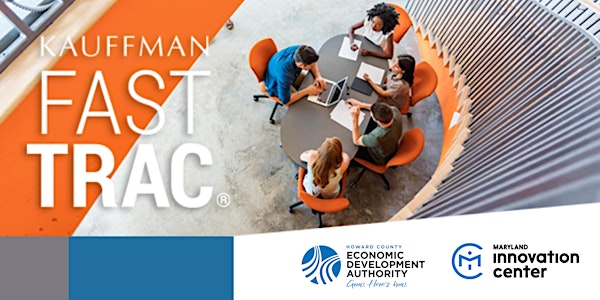 Start-up with Kauffman FastTrac @ MIC
You have an idea for a business. Now what?
When and where
Location
Maryland Innovation Center 6751 Columbia Gateway Dr. 3rd Floor, Gold Room Columbia, MD 21046
About this event
Find the answer with this hands-on, comprehensive program providing a solid framework to support you as you start a business and begin your journey to success. We will dig into the steps you need to take and help you formulate your product or service idea, build a business plan, consider the marketing, sales, legal and financial aspects of starting a business.
This program is built on the highly acclaimed Kauffman FastTrac® program. You will have access to a rich set of materials and templates to help get your business started.
There will be guest speakers to personally answer your questions from banking, marketing, legal, HR, and entrepreneurs who have been there and done that.
Held in the evenings on 9/28,10/5, 10/12, 10/19, 10/26, 11/9, 11/16, 11/30, 12/7, and 12/14 at the Maryland Innovation Center (MIC) you will also have the opportunity to grow your network and learn from others in the program so please plan to attend all sessions. There will be light refreshments available. Throughout the 10-week course, you will:
1. Explore Your Innovative Business Idea
2. Identify & Meet Market Needs
3. Set Financial Goals
4. Plan Your Products/Services
5. Research & Analyze the Market
6. Discover Your Competitive Advantage
7. Build Your Own Organization & Team
8. Plan for a Profitable Business
9. Understand Cash Flow & Acquiring Funds
10. Implement Your Business Plan
Additional information about the Kauffman FastTrac Program can be found on their website by clicking here.
Registration closes on Sept. 24 at 11:30 PM.
About Kauffman FastTrac®:
Kauffman FastTrac® equips aspiring entrepreneurs with the business skills, insights, tools, resources, and peer networks necessary to start and grow successful businesses. The program was launched by the Ewing Marion Kauffman Foundation headquartered in Kansas City, Mo., and carries out Mr. K's belief that everyone has a fundamental right to turn an idea into an economic reality, regardless of who you are or where you're from, with zero barriers in the way. Kauffman FastTrac® participants decide between self-paced, virtual learning or affiliate learning. Affiliate learning is in a classroom with other entrepreneurs and a FastTrac facilitator or in a virtual environment with a FastTrac facilitator. A blend of both virtual and in-person learning with a FastTrac facilitator is available, also.
Facilitators:
Doug Holly – Entrepreneur in Residence at the Maryland Innovation Center (MIC) for the past 5 years where he provides mentorship and programming to MIC members. Doug is also a mentor at Bethesda Green and for the MTC Venture Mentor Services program. He runs a management consulting business, Eagle Management Group where he helps small businesses owners achieve organizational and operational effectiveness as they grow. Previously Doug managed the development and fielding of computer and telecommunications products and services for IBM, TTC, Acterna and JDSU (now Viavi Solutions). He also handled over a dozen M&A projects from due diligence through to integration. He is a member of PMI, IEEE and a certified Kauffman FastTrac facilitator and Program Director.
Russell C. Teter III - A certified coach/facilitator how has coached over 16,000 business owners/executives during a 25-year career across nearly every major industry sector, specializing in government contractors. He is currently the Director of Training for the University of Maryland's Small Business Development Center. Russell transforms firms by developing organizations that result in faster growth, greater profits, and higher value. He is certified by FranklinCovey-- the world's premier leader in strategy execution, decision making, customer loyalty, leadership, and individual effectiveness. He is also a Certified ValueBuilder Coach, Kauffman Foundation facilitator, and partners with Dale Carnegie Training.