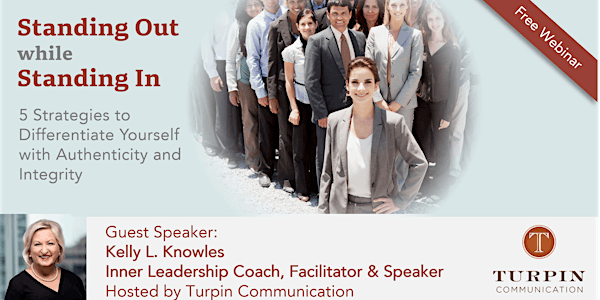 Standing Out While Standing In
This program presents the "Fast Five" strategies to authentically Stand Out in Your Organization while developing others with integrity.
Date and time
Thursday, March 23 · 8 - 9:30am PDT
About this event
1 hour 30 minutes

Mobile eTicket
Turpin Communication is proud to host this exciting event with Inner Leadership Coach Kelly Knowles. This free webinar will be moderated by Greg Owen-Boger, Turpin Communication's EVP of Learning & Business Development.
Standing Out While Standing In
5 Strategies to Differentiate Yourself with Authenticity and Integrity
(With Special Emphasis on First Generation Professionals)
This session combines the professional presence and reputation of Turpin Communication with the southern flavor and energy of Kelly K Consulting to provide a session that will be remembered and learning that can be used immediately.
The fast-moving webinar will provide practical tools to develop strategies to authentically (and with integrity) stand out from the crowd as you advance while positively developing those around you for continued professional and organizational success.
We will look at the "Fast Five" specific strategies to accomplish these goals, discover our own driving core motive, and then engage in an interactive discussion to apply what we have learned in this session.
This session has a special emphasis on learning about and working with FGPs (First Generation Professionals) to enable you to better develop future leaders in an inclusive environment.
Key Learning Objectives
Learn the Fast Five strategies for standing out in your organization while differentiating yourself with authenticity and integrity while developing those around you
Gain an understanding of FGPs (First Generation Professionals) and why this group has a real impact in your organization for building inclusion
Recognize and understand the unique development opportunities of FGPs for you and your organization
Discover Your Personal Driving Core Motive
Who Should Attend
Individual contributors, managers, and leaders in any organization who wish to stand out with authenticity and stand in for those they lead.
Kelly L. Knowles
Inner Leadership Coach, Facilitator & Speaker | Certified Color Code Personality Profile Trainer
Advancing the success of professionals and teams by helping them discover, develop and dig-in to their full potential. With a special heart for first generation professionals, Kelly knows the experience of moving forward from an honorable working class setting into a corporate professional setting.
About Kelly K Consulting
Kelly K Consulting began in 2019 when she realized that she wanted to work with other organizations and individuals to help them solve key needs in professional development that have a key impact on their bottom line.
She guides this through one/one and group coaching as well as through interdepartmental team training. Kelly knows that when someone discovers their inner leadership they will begin to maximize their life in a satisfying and authentic way.
With more than 20 years of speaking (keynotes, webinars, conferences and more), training and instructional (delivery and design) experience Kelly is equipped to lead you and your team in strengthening your interpersonal skills and increasing your leadership effectiveness.
Kelly also works as the Lead Technology Trainer for an AmLaw 110 law firm where she develops and provides technical and business skill training to all levels of the organization. She is active in team management and works on projects with SMEs to be able to deliver training and development at all levels firm-wide.
She is skilled at taking complicated information and making it understandable and applicable to everyday processes and life. She gets to the details of what people must know while also giving them the bigger picture.
Kelly is the author of Chin Hairs and Other Things Mama Didn't Tell You: From Surviving to Thriving In Your 20s and 30s which rated as an Amazon #1 New Release in Fall 2022.
Website: www.kellyknowles.net Email: kelly@kellyknowles.net
Greg Owen-Boger is the EVP of Learning and Business Development at Turpin Communication. Schooled in management and the performing arts, Greg brings a diverse and entrepreneurial set of skills to the organization. He joined Turpin in 1995 and now serves as a communication trainer and executive coach for Turpin's largest clients. Greg is a Certified Partner of the Bates organization and holds the Bates ExPI™ (Executive Presence Index) Coaching Certification. He co-authored both The Orderly Conversation: Business Presentations Redefined (a book that challenges conventional thinking about what it means to present and facilitate in today's business environment) and Effective SMEs: A Trainer's Guide for Helping Subject Matter Experts Facilitate Learning. Greg is a popular speaker and blogger and makes frequent guest appearances at conferences and a variety of external blogs and podcasts.
The Fine Print
These sessions will be recorded and potentially used for marketing purposes. By enrolling, you agree to receive occasional messages from Turpin Communication. You may opt-out at any time.
About the organizer
Turpin Communication is a business communication training company. We build the skills presenters need to achieve their goals, work more efficiently, and grow leadership capabilities. Our process is about simplification and personalization. We untangle confusing assumptions, clarify fuzzy definitions, and reject the tyranny of generic rules.
Everything we do in the training room is designed to help presenters build their communication capabilities. When employees communicate more effectively, leadership capability increases, careers advance, and organizations thrive.