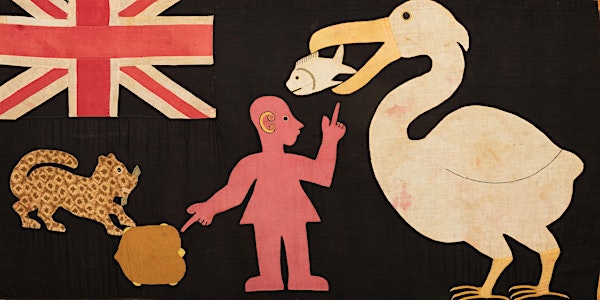 Standard Bearers: Asafo Flags from Ghana, Past and Present
Join in on a discussion of Asafo Flags, the spectacular militia insignia of the Fante states along the southern coast of Ghana.
Refund Policy
Contact the organizer to request a refund.
Eventbrite's fee is nonrefundable.
About this event
Drawing on historical examples from the Karun Collection, Dr. Gus Casely-Hayford and Karun Thakar will exchange various viewpoints from collecting to understanding the complex meanings and practice of this textile art form. Gus and Karun will place Asafo flags within the wider context of global textile arts and reveal how the flags' seemingly simple patterns can be 'read' to reveal aspects of the communities who made them, and the performances in which they played a part. They will explore how the very sophisticated art form of Asafo flags is seen in relation to colonial writings and Western art practice. Furthermore, they will discuss the question of who are today's bearers of this tradition, and what are the responsibilities of public and private institutions that house these flags in relation to post-colonial dialogue.
This is an online event which will be hosted on Zoom. The link will be emailed to registered participants before the event.
About Asafo Flags:
Video: Asafo flags: Stitches Through Time with Dr. Gus Casely-Hayford,
Exhibition: Asafo Flags from the Karun Collection
About the Speakers
Dr. Gus Casely-Hayford is a British curator, cultural historian, broadcaster and lecturer with Ghanaian roots. He is presently the Director of the V&A East which is set to open in 2023. Formerly, he has been the Director of the Smithsonian National Museum of African Art in Washington, D.C. He served as Executive Director of arts strategy for Arts Council England and has advised on the boards of numerous arts institutions. In June 2018, he was appointed an Officer of the Order of the British Empire (OBE) for his services to Arts and Culture He has presented several series in BBC television programs on African cultures and wrote a book on Timbuktu (2018, which was published by Ladybird/Penguin) and Lost Kingdoms of Africa (2012 by Bantam Press). He lectures on world art at Sotheby's, Goldsmiths College and the University of Westminster, and is a consultant for organizations such as the United Nations, the Arts Council and the BBC.
Karun Thakar is a collector and researcher of textiles. His discerning approach to collecting historical textiles from Asia and Africa for over forty years has created one of the most important textile collections in private hands. He has collaborated with the Brunei Gallery at the School of Oriental and African Studies, London, with number of shows on African/Indian textiles and painted film posters. He has published five books on his textile collections with Hali Publications. His joint show with George Washington Textile Museum in DC, Indian Textiles: 1,000 years of Art and Design, opens in January 22. In 2021, he established the Karun Thakar Fund in collaboration with the Victoria & Albert Museum to support researchers and makers in the field of Asian and African textiles and dress. Through cloth he hopes to contribute to a wider understanding of postcolonial narratives.
Accessibility
If you require an accommodation for effective communication (ASL interpreting/CART captioning, alternative media formats, etc.) to fully participate in this event, please contact Katie Fleming at pahma-programs@berkeley.edu with as much advance notice as possible and at least 7-10 days in advance of the event.
Sponsors
Phoebe A. Hearst Museum of Anthropology