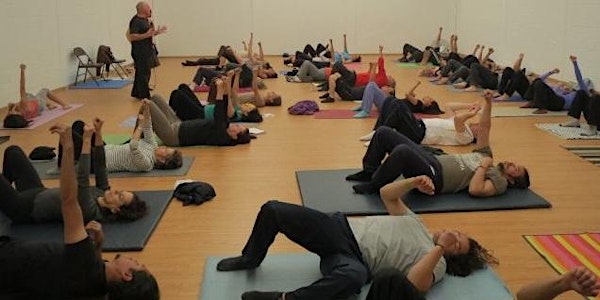 "Stability, Balance and Orientation in Motion" with Moti Nativ
Location
Holiday Inn National Airport/Crystal City
2650 Jefferson Davis Highway
Arlington, VA 22202
Description
Moti Nativ returns to Washington, DC with a NEW workshop "Stability, Balance and Orientation in Motion".
---

Moti Nativ kicks off International Feldenkrais Week 2016! With a two day workshop!

Come and Experience Easy, Effortless and Flowing Movement - The Paradox of Flowing and Weight
As Dr. Feldenkrais wrote in Higher Judo, "We aim to further adult individual independence from gravitation". In this weekend workshop we will look towards improving this independence from the pull of gravity.
Moti has developed new ATM lessons and concepts, going through the stages of development, from the baby's basic position lying on the floor, to adult erect posture and movement in daily activity in a changing environment.
Testimonials from last year's workshop:
"Improved stability, turning more easily - seeing the world in a new way."
"I'm a Feldenkrais practitioner and this was such a treat to attend a workshop where all I had to do was pay attention to my own movements - I felt so fluid and alive afterwards."
"I feel like I could dance for hours after this!"
"It was all I had hoped for and more - Moti is a wonderful teacher. I am walking more easily, and I enjoyed the exciting lessons. I would absolutely come again!"
" I have been taken aback by Moti's ability to teach ATM lessons that are "beginner lessons" In such a profound way that I am having a completely novel experience."
"I was very touched by Moti speaking about how he works with seniors, and he makes it clear that there is an entire range of usefulness to everyone in all of these movements."
"Moti's teaching style is how I imagine Moshe Feldenkrais' teaching style was like!"
"It's been really great - I love how he brought in the martial arts and explained it so clearly. I love Moti!"
We will explore more of Moshe's genius work, discovering and using our real potential and power to move effortlessly and without strain.
Although it will be a challenging weekend, everyone, no matter his/her age or body condition, will safely experience and learn new movements and situations, and gradually improve their Stability, Balance and Orientation. Learn more efficient and effortless action in everyday situations.
You will come away feeling more stable, balanced and powerful, without engaging unnecessary muscular activity.
This is part of the Synergy Project - the Synergy of Martial Arts and the Feldenkrais Method®.
Moti Nativ, a martial artist and Feldenkrais practitioner, ha

s taught at a center for the Elderly in Tel Aviv, working with students whose age averages 80. He also teaches at the Wingate Academy of Sport in Tel Aviv, educating movement instructors to work with clients in the "Golden Age". His work is based on his

Warrior's Awareness
approach, developed through 25 years of teaching Awareness Through Movement
®
.
Moti Nativ

, a retired Colonel from the Israeli Defense Force, is a certified Feldenkrais practitioner

and a Shihan in the Bujinkan school of Budo Taijutsu. He holds a black belt in Judo and is a certified Krav Maga instructor. He served four years as the president of the Israeli

Feldenkrais

Guild.
Do not miss this opportunity to work with Moti - it will delight and surprise you in many ways!
May 7-8, 2016
Arlington, VA
10:00 - 5:00pm Saturday
10:00 - 4:00pm Sunday
Register here by credit card or mail a check to:

Eastern Region, Feldenkrais Guild of North America
Jane Johnston
3927 Lord Fairfax Highway
Berryville, VA 22611 or